As New Accusations From Heather Morris Come Out, Lea Michele Is Focusing On Family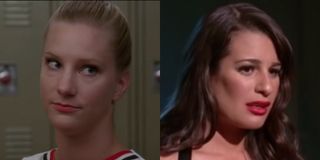 It was nearly a year ago that accusations of Lea Michele bullying on the set of Glee first went public due to claims made by Michele's former co-star Samantha Ware, and Ware was later backed up by other former Glee stars including Amber Amber Riley, Alex Newell, and Heather Morris. Now, Morris has come out with further comments about Michele's behavior on set of the hit Fox show, but Michele's focus seems to be on her family for the time being.
Just one day after Heather Morris spoke up with more accusations against Lea Michele, Michele took to Instagram to post a photo with a message that her "heart is so full" as a new mom, with another former Glee star pictured holding her son. Take a look:
The photo shows Glee actor Darren Criss (who went on to win an Emmy for a follow-up role on The Assassination of Gianni Versace: American Crime Story) holding Lea Michele's son, Ever Leo Reich, who will turn 1 in August. The duo reunited for a duet back in 2017, and it's clear that the friendship has endured since then. To contrast, in Heather Morris' interview on the Everything Iconic with Danny Pellegrino podcast, the actress/singer/dancer revealed that she hasn't heard from Michele.
Heather Morris' initial comments about Lea Michele after the bullying accusations first began to fly back in June 2020 condemned hate as "a disease in America" and said that Michele was "unpleasant to work with" and treated others with "disrespect," but also said that it's "on us" for allowing "it to go on for so long without speaking out." Morris also said that she "cannot comment on" Michele's belief in response to accusations of Michele having racist beliefs.
Now, in a podcast interview that went live on May 26, Heather Morris clarified her comments and elaborated, saying:
According to Heather Morris, Lea Michele's pregnancy was a factor in how she chose her words about the accusations of bullying at the time in 2020, and she still believes that members of the cast could have spoken up about the situation. She also credits Glee co-star Naya Rivera for her honesty on the situation. Rivera passed away in 2020 after drowning in a lake in California, although not before saving the life of her young son and receiving an outpouring of support from fellow Glee cast members.
When asked if there was a specific incident that stands out in her mind about Lea Michele's behavior on the set of Glee, Heather Morris explained:
Heather Morris' comments about Lea Michele trying "to become better" and periods of being close and not "as close" suggest that there were changes in Michele's behavior over the years. Michele was also in a relationship with Glee's Cory Monteith at the time of his death back in 2013, and was actually the one to break the news of his passing to his mother. She has continued to share tributes to Monteith over the years since, including one in 2020 that honored both Monteith and Naya Rivera.
Lea Michele hasn't responded to Heather Morris' comments at the time of writing, but the Instagram photo of her with Darren Criss and her son (which follows an image that she shared of longtime friend, co-star, and Hamilton's King George actor Jonathan Groff with her son earlier in the week) indicates that she's focusing on family for now.
Resident of One Chicago, Bachelor Nation, and Cleveland. Has opinions about crossovers, Star Wars, and superheroes. Will not time travel.
Your Daily Blend of Entertainment News
Thank you for signing up to CinemaBlend. You will receive a verification email shortly.
There was a problem. Please refresh the page and try again.