Lea Michele Shared A Sweet Photo Flashback Of Herself With Cory Monteith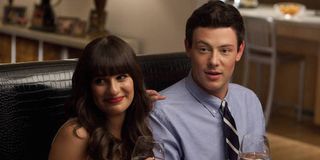 Lea Michele is taking a trip down memory lane on her Instagram this week by posting a bunch of old photos, and the sweetest of the bunch is a throwback shot of her cuddled up with Cory Monteith. The bottom of the intimate, Polaroid-style photo reveals that it was taken on Bleeker Street in New York City back in 2012, which was the year before Monteith was found dead of an overdose. Michele had dated Monteith for the four years up to his death, along with playing his love interest on Glee.
Lea Michele posted the adorable throwback shot was in the middle of a bunch of other similarly stylized Polaroid snaps, all representing fond memories she's made in years gone by.
In the years since Cory Monteith's death, Lea Michele has shared quite a few tributes to him on her social media accounts. Most recently, Michele got a permanent reminder of her late boyfriend by tattooing the number 5 on her side --- 5 was the number on Monteith's Glee character Finn's football jersey. Michele also showed off a second tattoo dedicated to Monteith in a Women's Health spread last year --- the name "Finn" written on her hip.
Though Lea Michele openly shows her love for Cory Monteith now, the couple had actually kept their relationship under wraps for quite some time when they started dating. The pair quickly hit it off after they were cast as the primary love interests on Fox's musical comedy Glee, and began dating in 2009 while the first season of the show was airing. However, it wasn't until three years later that they officially told the media about their relationship.
Sadly, Cory Monteith had battled a drug addiction for most of his life, which came to a head in the summer of 2013. Earlier in that year, Monteith had completed rehab for his substance abuse, but just a few months later he was found dead in a hotel room from an overdose of heroin and alcohol. Researchers believe that his lowered tolerance for heroin after completing his treatment program is what made the usual amount that Monteith ingested lethal.
Each year on the date of Cory Monteith's death, July 13, Lea Michele posts a loving remembrance of him. It's clear that he will always be in her heart.
Your Daily Blend of Entertainment News
Your Daily Blend of Entertainment News
Thank you for signing up to CinemaBlend. You will receive a verification email shortly.
There was a problem. Please refresh the page and try again.