Stephen King's Lisey's Story: 7 Differences Between The Book And The Show After Episode 3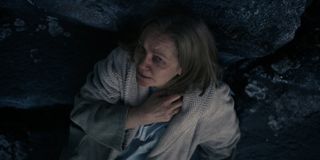 The table has been set. In Lisey's Story's two episode premiere last week, audiences were introduced to Julianne Moore's Lisey; got to understand the serious mental health issues plaguing Joan Allen's Amanda; discovered the special bool hunt left by Clive Owen's Scott; witnessed the madness of Dane DeHaan's Jim Dooley; and met the monstrous Long Boy. For the most part, the chapters were very faithful to the Stephen King book on which the show is based – which makes sense given it's the author himself doing the adapting – but there were some key details changed around, and that is something that has continued in Episode 3, titled "Under The Yum-Yum Tree."
Anyone who has read Lisey's Story will remember the events that occur beneath the eponymous plant (namely Scott revealing stories of his terrible upbringing to his wife-to-be), but there are some significant alterations made from the text that are worthy of noting. So now that Episode 3 is airing on Apple TV+, let's dig into the most significant ways it deviates from the source material.
Jim Dooley Pies A Critic As A Reference To Scott
There aren't exactly a lot of moments in Lisey's Story when the titular protagonist appreciates the existence of Jim Dooley (just wait until you watch Episode 4), but in the third episode of the miniseries adaptation she does get a quick chuckle out of his behavior. The scene where Lisey watches footage of Jim smashing a pie into the face of a Scott Landon critic – what turns out to be a reference to Landon's book, Relics – is an original moment created for the adaptation, and an appreciated moment of levity amidst the many terrors that loom in the story.
Scott Is Older When His Dad Forces Him To Jump To Save His Brother
When Scott tells Lisey about his childhood while they sit together under the Yum-Yum Tree in the Apple TV+ series, he recounts a particular incident from when he was about eight years old – being forced by his father to leap from a brick wall to stop his brother Paul from being cut. The first way in which this is changed from the book is that Scott is forced to jump from a six-foot wall instead of a three-foot-high bench … but the reason why it's still extremely dangerous for the kid is because Scott in the novel is only three years old at the time of the incident. In the source material it's made explicit that the famous author was a gifted child who was solving complex riddles when he was just a toddler, but because that's much easier to pull off in text instead of live-action, those details were changed for the adaptation.
The "Gone" Instead Of "Gomers"
In my book-to-show comparison for Lisey's Story's second episode, I noted that a fair amount of verbiage from the Stephen King novel has been changed for the adaptation – a standout example being the name of the special evil that exists in the blood of the Landons. As it turns out, though, the series hasn't just changed "The Bad Gunky" to "The Bad," but also changed "Gomers" to "The Gone" – a reference to the fact that some in the family don't turn psychotically violent, but instead just catatonic. It's not immediately apparent why this alteration was made, but, for what it's worth, "Gomers" does have a more insulting cadence, while "The Gone" sounds more neutral.
Dooley Sets A Fire As A Distraction For Beckman
Jim Dooley is as clever as he is dangerous, so when he sees that Sung Kang's Deputy Beckman is standing guard for Lisey he knows that he needs to find a way to get him of the premises. His solution? He goes to a nearby barn and tucks a rudimentary device (a car battery with a timer and jumper cables attached) under some hay. When the timer goes off, the barn gets set on fire, and Beckman has to respond to an emergency call – leaving Lisey unprotected. It's a smart idea that isn't featured at all in the book, but does a better job of explaining how Dooley gets into Scott's office, and is a moment that gives the audience a sense of the antagonist's intelligence.
Amanda's Cutting Incident In The Hospital Is Original
In Stephen King's book, Amanda's cutting incident with the tea cup while she is at home is the only time that she is depicted performing self-harm – but the streaming service has an extra sequence in "Under The Yum-Yum Tree," and it makes for the most horrific moment in the episode. Amanda sneaking around the hospital and getting a pair of scissors so that she can cut into her arm is original for the adaptation, and it most definitely drives home the desperation that the character is feeling as she continues to be trapped at the pool on Boo'ya Moon.
Lisey Doesn't Find Ike Comes Home By Scott Landon
I held off on including this entry in the previous two episode recaps, as I wasn't sure if Stephen King decided to move it to a different place in the story – but after Episode 3 it's pretty apparent that it has been cut. Early in the novel, Lisey is going through Scott's office and discovers what appears to be a thousand-page manuscript titled Ike Comes Home. Curious about it, she turns to the first page and finds that the only words written are, "Ike came home with a boom, and everything was fine. BOOL! THE END!" It's the first "bool" that is introduced in the book, but apparently for the streaming series King found the moment to be superfluous.
Empty Devils Explicitly Features Elements From Boo'ya Moon, Albeit With New Names
Scott Landon book titles like The Coaster's Daughter, Empty Devils, and Relics are all taken directly from the original novel, but you never really learn anything about their plots. For the adaptation, however, Stephen King throws some interesting details at the audience – namely when Darla explains that Empty Devils is set at least partially in a world called Banilla where there is a monster guardian and waters that can heal and fascinate. While it is made clear in the source material that Scott's ideas come from the pool ("where we all go down to drink"), in the streaming series it's interesting that Empty Devils is apparently about Boo'ya Moon. Making this change allows Lisey the excuse of feeling like she has been caught up in her deceased husband's imagination, which then in turn plays a key role in her denial that the magical world is real.
"Under The Yum-Yum Tree" ends with a pretty big cliffhanger, as Lisey heads into Scott's office completely unaware that Jim is waiting for her… but we'll just have to wait a week to see how the plot continues to thicken. New episodes of Lisey's Story air every Friday on Apple TV+ at midnight PST/3am EST, and after you watch be sure to head back here to CinemaBlend to find the latest recaps comparing the streaming series to the text. In the meantime, click on the banners below to navigate to the other book-to-show features I've written for the new Stephen King adaptation.
Assistant Managing Editor
NJ native who calls LA home and lives in a Dreamatorium. A decade-plus CinemaBlend veteran who is endlessly enthusiastic about the career he's dreamt of since seventh grade.
Your Daily Blend of Entertainment News
Thank you for signing up to CinemaBlend. You will receive a verification email shortly.
There was a problem. Please refresh the page and try again.