Loki: 5 Massive Questions We Have Going Into The Final Episode Of The Marvel Series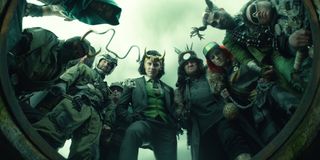 SPOILER WARNING: The following article contains massive spoilers for the fifth episode of Loki. If you have not yet watched it, read on at your own risk!
In the last month, Loki has taken us on one hell of a ride. From its very first episode onward it has served to make us reexamine not only everything that we know about the titular God of Mischief, but also everything that we know about the Marvel Cinematic Universe. Each step of the way has provided excellent twists and turns that have challenged our expectations, and that very much includes the penultimate chapter, "Journey Into Mystery" – which brings the series' main characters to the literal edge of all time. It's hard to believe that there is only one episode left, especially because there are so many huge questions left for the series to answer.
In the wake of Loki Episode 5 landing on Disney+, there are specifically five that stand out in mind – and while we obviously don't have any answers yet, let's take a dive into the context of those questions and ponder what's potentially to come in the big ending.
Who created the Time Variance Authority?
Let's start with what is definitely the big question driving the plot of Loki going into its final episode. For four episodes we were led to believe that the Time Variance Authority was the creation of three god-like space lizards who ended multiversal war with the formation of the bureaucratic agency, but at the end of "The Nexus Event" we learned that said god-like space lizards are nothing more than robots. Of course, this revelation only led characters and audiences alike to ponder the identity of the real mind behind the TVA – and because there isn't a firm answer provided in "Journey Into Mystery," it's one that we await in next week's finale.
It feels logical to assume that whoever is behind the Time Variance Authority is living in the vast estate that Loki and Sylvie reveal when they successfully enchant Alioth, but who will it be? I'm not going to deny that there are some very real Castle Doom vibes coming off that mansion at the end of time, but it still feels like the safe money can be put on Kang The Conqueror, whom we already know will soon be featured in Ant-Man And The Wasp: Quantumania (played by Lovecraft Country star Jonathan Majors) and the comic book history that exists between Kang and the cloud-like temporal entity who served as prime antagonist for Loki's fifth episode.
What exists beyond the end of time?
Fans paying attention to Loki will remember that the subject of the end of time was one initially broached in the first episode of the series, with Mobius telling the God of Mischief about the Time-Keepers' hard work carefully crafting it. Obviously that was a big fat lie that the TVA agent unknowingly propagated, but now the subject matter has returned and by the end of "Journey Into Mystery" is staring the main protagonists in the face. Going into the finale, Loki and Sylvie will be venturing into the end of time… but what exactly does that mean?
The majority of the latest episode is set on the brink of the sacred timeline's terminus, with The Void presented as a vast expanse that serves as the dumping ground for the TVA, but what about the real end of the line? What is the nature in that space as far as physics and time? Does it constitute its own reality? Once one goes beyond its barrier, can one easily return? The whole concept is a fascinating one, and one of the most exciting aspects of the Loki finale will be seeing it explored through the lens of the Marvel Cinematic Universe.
Can Loki really resist his worst instincts going forward?
Tom Hiddleston's Loki is given the opportunity to take a long hard look at himself – literally – in "Journey Into Mystery," and his facial expressions make it very clear that he doesn't love everything he sees (which is a pretty big deal for somebody so narcissistic). The attempted overthrow of Kid Loki by President Loki, with help from Boastful Loki, is a textbook display of the protagonist's worst character flaws: always looking to stab others in the back in the name of selfishness and lust for power. After five episodes, fans would like to think that Our Loki has evolved beyond those imperfections and has changed… but it also seems fair to guess that evolution will be verified by circumstance that plays out in the next episode.
When it comes time to make hard decisions and determine his own fate, will Loki be able to resist his instincts to manipulate and betray – even if it means sacrificing what he loves or what he potentially sees as his glorious purpose? Finales are perpetually designed as tests of a character's development and legitimate change, and given everything that we've been through with Loki ever since Kenneth Branagh's Thor, it will be exciting to see how he confronts the challenges that await him and demonstrates his growth.
What was Sylvie's nexus event?
One of the best sequences in "Journey Into Mystery" is when Loki is sitting with his other variants and discussing their individual nexus events. Boastful Loki evidently embellishes his, but it's fun and eye-opening to discover that Alligator Loki ate "the wrong neighbor's cat," Kid Loki murdered Thor, and how Classic Loki lived beyond his fated death. It's a great scene… but it also reminds us that there is still a big question lingering regarding what it was that led Ravonna Renslayer to take Sylvie away from her home as a child and force her into a life on the run.
The subject was directly broached in Loki Episode 4, with Sylvie asking Renslayer the question in the elevator ride to the Time-Keepers, and the judge replying with a smirk that she doesn't remember the answer – but it feels like too big of a dangling element to ultimately be left unaddressed by the show. Perhaps a final confrontation with Renslayer will reveal that she really does recall why she abducted Sylvie. Perhaps Sylvie will have the chance to go back in time and witness the event herself. Regardless of the method of revelation, hopefully we will get to see the nexus event before the finale's conclusion.
Who was Mobius before he became a part of the TVA?
Who is Mobius? While audiences have had the chance to get to know the Owen Wilson character across the first five episodes of Loki, the deeper version of that question is seriously complicated. During his time with the TVA, Mobius was under the impression that he was a creation of the Time-Keepers, but during his latest Loki-centric adventure he has come to discover that he is in actuality a variant with a wiped memory. Like the case with Sylvie, we have no idea what his nexus event was, but what makes his situation even more complicated is that we have no idea who he actually is.
It's possible that Mobius got the answers to his questions from Sylvie while the two characters rode around the Void in a pizza delivery car, but any and all revelations have been kept from audiences thus far. Surely there are many fans who are hoping that he was a '90s dude who loved creating waves riding around the ocean on a Jet Ski, but we'll have to wait and see if that's something the Loki finale confirms. For all we know he could be a variant of another major character, and the revelation will be one of the massive twists packed into the final episode.
We will all of these questions be answer by the finale of Loki? Only some of them? None of them? (That's impossible, but roll with it.) We'll find out in less than a week, as the last chapter of the six-part Marvel Cinematic Universe series will be available on Disney+ at midnight PST/3am EST next Wednesday, July 14.
Your Daily Blend of Entertainment News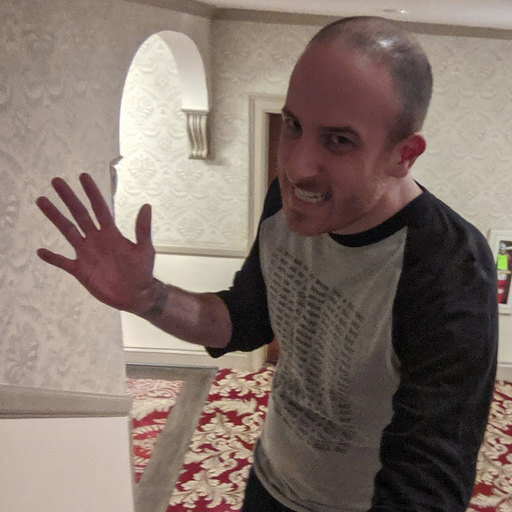 Assistant Managing Editor
NJ native who calls LA home and lives in a Dreamatorium. A decade-plus CinemaBlend veteran who is endlessly enthusiastic about the career he's dreamt of since seventh grade.