Kang The Conqueror: What You Need To Know About The Potential Ant-Man 3 Villain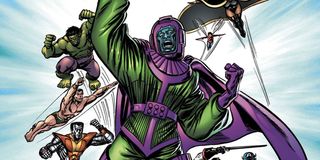 It is hard to imagine the Marvel movies adding on a more powerful villain than Thanos, but it appears that Josh Brolin's big purple guy could potentially get a real run for his money this time. Scott Lang and Hope Van Dyne's next baddie has been cast for Ant-Man 3, and recent reports indicate it may be Kang the Conqueror, one of the most powerful and popular enemies in Marvel Comics.
Speculation over the prolific villain's Marvel Cinematic Universe debut comes following the news that the studio cast Lovecraft Country star Jonathan Majors in the third upcoming Ant-Man movie. While it was never officially disclosed who his character will be, close sources for the Deadline article that broke the announcement provided whispers that it might be Kang the Conqueror, who has already been the subject of Phase 4 rumors since Avengers: Endgame came out.
It has also been suggested that, in typical MCU fashion, the character will be tweaked slightly from his original comic book iteration. That being said, unless you have been following the famously complicated history of Kang the Conqueror since the beginning, how else will you be able to point out all the differences to impress your friends? That is where we come in with these seven essential facts to help you understand just who this villain is and how he could affect the franchise in time for his grand (alleged) introduction.
Kang The Conqueror Has Traveled To Many Different Time Periods and Dimensions
Created by the legendary duo comic book creators Stan Lee and Jack Kirby in 1964, Kang the Conqueror (actually one of his many, many aliases) was born Nathaniel Richards in the 30th Century, but not in the Marvel multiverse's primary reality. He originated from Earth-6311 reality, which, after centuries of warfare, was an idyliic and peaceful place thanks to the intervention of Nathaniel's older, alternate self from Earth-616. However, the Nathaniel from Earth-6311 grew tired of living in this environment and used his Earth-616 counterpart's time-traveling invention to take control of all history by jumping between multiple timelines, earning his new tyrannical identity.
Kang's Battle Armor Gives Him Various Superhuman Abilities
While possessing no powers of his own, Kang the Conqueror managed to develop a special suit composed of a rare 40th-Century synthetic alloy that gives him special abilities he can control with his mind. He can lift up to five tons, emit concussive energy blasts and electric shocks, and even fly with a built-in hover pad, which are really just the basics of what his armor can do. It is also [what he uses to travel through and manipulate time](https://marvel.fandom.com/wiki/NathanielRichards(Kang), and additionally allows him to summon any weapon of his choice somewhere out of time. The suit also includes nanotechnology to help prolong his life by transferring his consciousness into a new body in case he dies.
Kang Made Himself The Ruler Of Egypt On His First Time Jump
Kang the Conqueror's first taste of power came from his maiden voyage as a time traveler when he still going by Nathaniel, but he would soon adopt a different identity when he landed in 2960 B.C. of the Earth-616 timeline. After the Egyptians mistook his time traveling technology for god-like powers, Nathaniel was able to easily usurp the throne as their pharaoh, reinventing himself as Rama-Tut, who would also become an enemy to the Avengers and Fantastic Four, and even additional alternate versions of himself when their own time jumps caused them to cross paths.
Kang Is A Descendent Of The Fantastic Four's Reed Richards
If Kang the Conqueror's birth name, Nathaniel Richards, sounds familiar to you, let me assure that it is, indeed, no accident that he shares a last name with the leader of the Fantastic Four. Dr. Reed Richards, otherwise known as the flexible Mister Fantastic, is one of his most famous ancestors. This has caused some fans to speculate that the introduction of Kang could set up the long-awaited inclusion of Marvel's first superhero family into the MCU. Of course, there are additional versions of Nathaniel who are also suggested to be descended from Victor von Doom (a.k.a. Doctor Doom), so that could also lead to some intriguing conflict.
Kang Inspired The Creation Of The Original Human Torch Android
The connection between Kang and the Fantastic Four actually goes even deeper than his relation to Reed Richards (well, speaking loosely, that is). At one point, Nathaniel Richards started a new life in the early 20th century as wealthy industrialist Victor Timely Jr., who, in 1929, employed the brilliant Phineas Horton, who would then develop a plethora of groundbreaking scientific advancements, including inventing the Human Torch android, which pre-dates Johnny Storm by a few decades. This synthetic organism can create and manipulate flame, fly and is one of Marvel's earliest superheroes.
Each Of Kang's Time Jumps Creates A New Clone Of Himself
By now, you may be dizzy by the frequent mentions of Kang the Conqueror's various alternate selfs running about, but we have barely scratched that surface until now. To better understand this phenomena, according to Marvel's rules of time travel, a new version of Kang is created by each instance he travels through time. Which, as you could probably expect, has resulted in a countless number of concurrent counterparts that would even form a collective group (more than one, actually) initially known as the Council of Kangs. Think of it as an even more sinister version of the Citadel of Ricks from Rick and Morty.
A Younger Version Of Kang Actually Became A Young Avengers Member
However, not all of Kang the Conqueror's many alterations are bad, believe it or not. In fact, a younger version of Nathaniel Richards' Earth-6311 counterpart was committed to preventing his future self from spreading his tyrannical influence across multiple dimensions, and did so by adopting the identity of Iron Lad. Equipped with a suit bearing much of the same abilities as Kang's battle armor, Iron Lad instead used it for good, earning him a spot on the Young Avengers team alongside Ms. America, Kate Bishop as Hawkeye and others.
What do you think? Does Kang the Conqueror sounds like the coolest thing to (possibly) happen to the Marvel Cinematic Universe in years, or does it sound like he could make the interweaving stories of the franchise even more difficult to follow? Let us know in the comments and be sure to check back for additional information and updates on the potential Phase 4 villain, as well as even more in-depth looks at the origins of your favorite comic book characters here on CinemaBlend.
Your Daily Blend of Entertainment News
Jason has been writing since he was able to pick up a washable marker, with which he wrote his debut illustrated children's story, later transitioning to a short-lived comic book series and (very) amateur filmmaking before finally settling on pursuing a career in writing about movies in lieu of making them. Look for his name in just about any article related to Batman.
Your Daily Blend of Entertainment News
Thank you for signing up to CinemaBlend. You will receive a verification email shortly.
There was a problem. Please refresh the page and try again.