Guardians Of The Galaxy's James Gunn Apparently Sides With Loki On Agents Of S.H.I.E.L.D. MCU Debate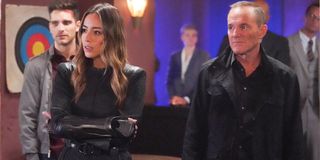 Although Marvel's Agents of S.H.I.E.L.D. has been billed by a number of people as the first and longest-running MCU show, as it premiered in 2013 and ended just last year, some have wondered if the ABC series is actually part of the Marvel Cinematic Universe canon. This was debated even more after the first couple episodes of Disney+'s Loki seemingly erased what the agents went through. And now, even Guardians of the Galaxy director James Gunn is siding with Marvel's newest series.
James Gunn recently started a thread on Twitter of all the actors that have been in both the MCU and the DC Extended Universe. Replying to the thread, one user brought up TV series as part of their respective cinematic universes, as there have been actors who've appeared on both Agents of S.H.I.E.L.D. and The CW's Arrow. Needless to say, Gunn made some points in his tweet that not everyone is agreeing with:
It's interesting that James Gunn brings this up. Many know Agents of S.H.I.E.L.D. had some major tie-ins with the MCU movies in its early seasons, the biggest being Captain America: The Winter Soldier, which saw S.H.I.E.L.D. collapse. The show broke away from the cinematic universe during its later seasons, but it did still carry the vibe that we've come to expect from the MCU.
Aside from S.H.I.E.l.D., fans have also been speculating whether the Netflix shows -- Daredevil, Luke Cage, Jessica Jones, Iron Fist and The Defenders -- are all set in the Marvel Cinematic Universe. With the shows taking place in and around New York, there were numerous mentions of the Battle of New York, which saw Earth's Mightiest Heroes face off with Loki and the Chitauri in 2012's The Avengers. Even Matt Murdock actor Charlie Cox is currently rumored to be appearing in Spider-Man: No Way Home. So at the very least, there would appear to be some kind of links between the shows and the MCU films.
Because Agents of S.H.I.E.L.D. did only end last year, it's not likely that anyone has forgotten about the series already. But considering how much of a splash Disney+'s WandaVision made and admittedly has greater ties to the MCU, it's not surprising that some people, including James Gunn, would label it the first true MCU series. Still, the storylines in the early seasons of Agents of S.H.I.E.L.D. that tie into the larger universe should be given at least a little more credit. After all, one would think Coulson didn't die and get resurrected for nothing.
In fairness, it should also be pointed out that Marvel Studios did not produce shows any of the aforementioned shows and, pre-WandaVision, studio vets like Kevin Feige and Louis D'Esposito only consulted on Agent Carter. Nevertheless, this shouldn't automatically negate the connective tissue entirely.
Now, will any of the Agents of S.H.I.E.L.D. or any other Marvel Netflix characters make appearances in upcoming MCU movies? At least, besides Agent Coulson? That's hard to say especially if some of Marvel Studios' creatives share James Gunn's sentiments. But with the MCU not slowing down anytime soon, anything is possible moving forward. Maybe Chloe Bennet's Daisy Johnson and Krysten Ritter's Jessica Jones will show up to kick some butt and save the day in a new movie or another show. I'm still keeping my fingers crossed for it.
Your Daily Blend of Entertainment News
Passionate writer. Obsessed with anything and everything entertainment, specifically movies and television. Can get easily attached to fictional characters.