Why Former Agents Of SHIELD Star Brett Dalton Had 'All The Feelings' About The Series Finale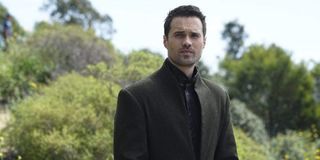 The Agents of S.H.I.E.L.D. series finale brought everything full circle for the beloved team. Their final mission together encountered a lot of bumps along the way, but Daisy, Coulson, May, and Co. really stuck the landing at the end. That, in turn, made the characters' send-offs really emotional to watch; not to mention the cast having to say goodbye to the ABC series after seven seasons. Former Agents of S.H.I.E.L.D. star Brett Dalton hadn't been on the show in three years, but revealed even he experienced "all the feelings" while riding that same emotional high for the series finale.
Agents of S.H.I.E.L.D. Season 7 brought back several familiar characters like Jiaying, Patton Oswalt as a Koenig relative, and more. However, Brett Dalton's Grant Ward was nowhere in sight. Ward, whose betrayal greatly impacted the team in early seasons, was last seen as a virtual recreation of his real-world counterpart in Season 4's Framework storyline. Despite Dalton's absence in Season 7, the actor explained why Agents of S.H.I.E.L.D. meant so much to him and how heartbroken he is that it's over. Here's what he told CBR:
And by grieving with "everyone," Brett Dalton really meant everyone. According to the actor, the Agents of S.H.I.E.L.D. cast had a text chain where they all discussed their experience working on the show and how cool it's been to be a part of something that has lasted for seven seasons.
In that way, Brett Dalton got to "properly grieve" the show's end, which is something he didn't get to do after he left in Season 4. After seven seasons, he's finally feeling the weight of what the Marvel series has accomplished, and the impact that it's had on the cast, both of the recent past and distant past. At the end of it all, Dalton was "just so incredibly happy" to have been a part of the Agents of S.H.I.E.L.D. family.
I think Brett Dalton had an excellent run on the show and I'm glad that the series was able to put his career on the map. In the years since he left Agents of S.H.I.E.L.D., Dalton has appeared in several movies, including Lost in Florence with Castle vet Stana Katic, along with voice work on Robot Chicken. Plus, he's guest-starred on a few notable TV shows like Elementary.
I'm sure his career will continue to blossom over the next few years, but I'd wager that most fans will always remember him most fondly as Agents of S.H.I.E.L.D.'s Ward and I think that's a pretty great legacy to Hive, er, have.
Agents of S.H.I.E.L.D. is currently streaming on Netflix (the first six seasons), with select episodes of Season 7 available on Hulu. For more on what to watch in the coming months, be sure to check out our 2020 fall TV premiere schedule.
Your Daily Blend of Entertainment News