Does Chicago Med Need A Time Jump When It Returns For Season 7?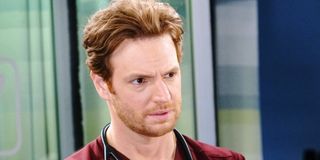 (Image credit: NBC)
The three shows of One Chicago wrapped their latest seasons on NBC back in May, and the long wait to find out what happens next for Chicago Med, Chicago Fire, and Chicago P.D. still has months to go. That said, it's never too soon to look ahead to what happens next after all the One Chicago cliffhangers, and I find myself wondering: does Chicago Med actually need a time jump to start Season 7?
Chicago Med has gone both ways when it comes to starting new seasons, with some picking up right where the previous season finale left off with others going for a time jump. Based on the Season 6 finale, I can actually see Med going either way to launch Season 7. No major characters' lives were in the balance, and the cliffhangers – while raising some big questions – don't necessarily need on-screen resolution ASAP when Med returns in the fall.
In fact, I'm inclined the think that Med would be better off going for a time jump rather than picking up where Season 6 left off. As much as it stuck out to me back in May that Chicago Med didn't really give Torrey DeVitto's Natalie or Yaya DaCosta's April very definitive sendoffs while the actresses were still on board as regulars, Med might be better off skipping ahead a few months and establishing that those sendoffs happened off-screen.
I'll change my tune if news breaks that Med is secretly bringing Torrey DeVitto and Yaya DaCosta back for one more episode to say goodbye, like the show did with Colin Donnell and Norma Kuhling back in early Season 5 for one last hurrah as Connor and Ava, but right now the smoothest way to address the unceremonious departures of Natalie and April is to establish that they got some goodbyes during a time jump.
Besides, the casting news more or less resolved one of the big cliffhangers from Season 6 already, with confirmation that Nick Gehlfuss is returning as Will Halstead. Plus, a time jump would allow Med to skip over the weeks of Ethan recovering from his gunshot wound. I'd be interested in seeing an episode or two of Dean Archer's ED to compare to how Ethan ran the ship as Chief, but it would be a shame for Med to go too long without Brian Tee in the mix.
But why might Chicago Med actually NOT go for a time jump? Well, the three shows of One Chicago are expected to be more closely connected again in the 2021-2022 TV season after spending a season mostly devoid of crossovers, and the finales of Chicago P.D. and especially Chicago Fire suggest that they at least won't be picking up after a lengthy time jump.
The Season 9 finale of Chicago Fire ended with the lives of Severide and the entire Squad in very real jeopardy, and Fire historically picks up where it left off when it comes to life-and-death situations. Just look at what happened to poor Otis just a couple of seasons ago after a deadly finale cliffhanger!
It's easier to imagine Chicago P.D. taking a time jump so that Burgess can be on the mend, but the aftermath of the Season 8 finale seems like something that needs to be explored quickly in Season 9. I'm not sure Upton has it in her emotionally to just go back to business as usual after what Voight put her through. Something's gotta give sooner rather than later after how Season 8 ended, right?
So, if Chicago Fire and Chicago P.D. don't deliver big time jumps, does that mean that Med can't? Not quite, but I do think that all three shows will be at the same point in the timeline by the end of their premieres, even if they don't all start that way.
Unfortunately, it will be a while before we get to see for ourselves. Chicago Med, Fire, and P.D. won't be back with new episodes on NBC until the fall. In the meantime, our 2021 summer TV premiere schedule can point you toward some options before fall season kicks off, and be sure to weigh in our poll below about a Med time jump!
This poll is no longer available.
Resident of One Chicago, Bachelor Nation, and Cleveland. Has opinions about crossovers, Star Wars, and superheroes. Will not time travel.
Your Daily Blend of Entertainment News
Thank you for signing up to CinemaBlend. You will receive a verification email shortly.
There was a problem. Please refresh the page and try again.