Sam Heughan And Caitriona Balfe Have Seen Your Outlander Fan Art, Have Some Funny Thoughts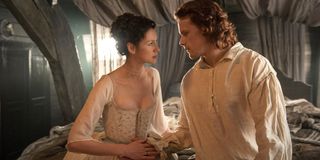 Outlander is one of those shows that had a fairly large following before it even began, thanks to the fandom who adores the novels by Diana Gabaldon that the show follows pretty closely, though not entirely. With such a loyal and committed fanbase comes plenty of fan art, and apparently the romantic drama's stars Sam Heughan and Caitriona Balfe have not only seen some of those artistic endeavors, but they have some pretty fun thoughts about the fan tributes they've laid their eyes on.
For a behind-the-scenes video taken on the set of Outlander Season 6, stars Sam Heughan and Caitriona Balfe seemed to have a blast looking through an assortment of fan art pieces, created across a variety of different mediums. And while it can't be the most natural feeling to look at such a range of beautiful art depicting their own likenesses, they have some good-natured laughs about it all. Heughan and Balfe are complimentary to the artists for their jobs well done, to be sure, but their friendly chemistry and banter is on full display as they semi-roast each other over how they're depicted.
At one point, Caitriona Balfe spoke out about one artist whose take on Sam Heughan apparently also went back in time. The actress jokingly pointed out that Heughan is much older in real life than the fan art showed him to be, even going back to Season 1 of Outlander. While that may come off as harsh to someone else, it's clear that the co-stars' relationship can weather those kinds of playful barbs, and the actors even welcome it.
While Sam Heughan may not have made any deep digs back at his friendly on-screen partner, he did point out that a doll with Caitriona Balfe's likeness captured her dark eyes pretty perfectly, which didn't give Balfe's real-life peepers much credit. While the doll was pretty cute and took a lot of talent to create, a cartoonish crocheted doll's beady eyes probably don't make for the most glowing comparisons. That said, having a whole doll designed and crafted to emulate one's likeness is an insanely big compliment in the first place.
The two do joke around at one another's expense quite often, but they also compliment each other just as frequently as they compliment the art itself. For one of the last fan art pieces, Caitriona Balfe lovingly pointed out that Sam Heughan's character was depicted handsomely and that it captured his likely very well. I'm sure plenty of fans would love to capture his likeness in other ways, if you catch my hurricane-force drift.
Hardcore Outlander fans are always ecstatic to see the cast hanging out and interacting off-script, and hopefully watching Sam Heughan and Caitriona Balfe poking fun at one another can stave off some of the hunger for more Outlander content, since we're not exactly sure yet when fans can catch the two stars back in character. Luckily, Season 6 has finished filming and is set to arrive on Starz at some point early in 2022, although unfortunately with a shorter season than usual. Be sure to keep a close eye on the 2021 Fall TV schedule to see what shows you can get busy with while waiting.
Your Daily Blend of Entertainment News
Constantly thinking about books, coffee, and the existential dread I feel from Bo Burnham's Inside. While writing I'm also raising a chaotic toddler, who may or may not have picked up personality traits from watching one too many episodes of Trailer Park Boys.