Sam Heughan Reveals The Secret To Outlander Success With Caitriona Balfe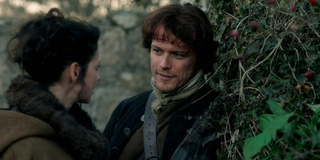 Outlander is one of those long-running shows that make viewers get extremely attached to characters. Yes, there's action happening, and yes, there's history happening. Above all else, there are bonds so strong that magical Scottish time travel can't break. The bond between characters doesn't end on the screen, though. Sam Heughan, who plays Jamie Fraser on Outlander, reveals how he and Caitriona Balfe, who plays his wife Claire, have such great chemistry. He even goes as far as to claim it is the reason Outlander has had such an overwhelming success.
Followers of the show know that the cast of Outlander is a tight one, making memories on set and showing support of one another off. According to Express, Sam Heughan says that the bond between him and his co-star Caitriona Balfe started not only as a deliberate choice, but even a strategic one. Here it is in his own words:
These are strong words from Sam Heughan, as not all working relationships can easily be referred to as a partnership, and even more so for both partners to be on such equal, common ground. Through his words here, we see what the actor portrays so often on screen: a true appreciation and respect for his other half. Fangirls everywhere can squeal in delight.
However they may be doing it, they are doing it right. After five seasons and a sixth (eventually) on the way, Sam Heughan and Caitiona Balfe's partnership continues to work. Like Heughan claims, their unique bond seems to be what makes the show work and keeps fans enticed. After all, there's nothing like a stable ship to keep a fandom afloat during a hiatus.
Fans aren't the only ones aching for Jamie and Claire Fraser to be together again; the tight-knit cast is also chomping at the bit to get back to set. The people behind the show being genuinely excited to be around each other can be the tell of a great show, and Outlander seems to qualify.
While Sam Heughan may be right about collaboration being the secret to a successful show, it also seems to be the key to making a partnership work, fictional or otherwise. The sixth season of Outlander is set to start shooting early next year, and continue checking back with CinemaBlend for more updates on the Frasers.
Your Daily Blend of Entertainment News
Thank you for signing up to CinemaBlend. You will receive a verification email shortly.
There was a problem. Please refresh the page and try again.