Chrissy Teigen Says She Could Be Cancelled 'Forever,' Shares How She's Approaching Situation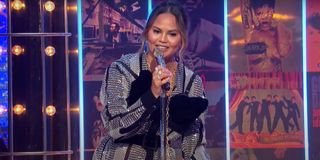 (Image credit: Lip Sync Battle)
In a matter of a few months, Chrissy Teigen has gone from Twitter's reigning Clapback Queen to Queen of the "Cancel Club." Several celebrities came forward with accusations that Teigen's jokes had crossed the line into cyberbullying on social media. The backlash from it all resulted in Teigen going on an apology tour and taking breaks from ongoing projects. When asked about it recently, the Lip Sync Battle co-host shared her new approach to public life, which may entail being cancelled "forever."
Chrissy Teigen opted to share the update during a run-in with paparazzi, and it seems she might still be retaining some of her notorious sense of humor. She laughed off the idea of being in "Cancel Club" and joked that the position there "could be forever." But the situation is still rather serious for the Twitter jokester and this is how she plans to approach it going forward (via TMZ):
The Lip Sync Battle co-host had been first asked about her thoughts on the Gen-Z TikTok influencer Addison Rae getting cancelled after her own short-lived stint as a UFC reporter. (Rae was heavily criticized for apparently shaking hands with former president Donald Trump at the event.) Chrissy Teigen shut down that line of inquiry, albeit with a little more humor. She said she "decided" that she is "not getting involved in anyone's shit ever again."
The comment appears to be alluding to the bullying allegations leveled against Chrissy Teigen. Celebrities like Courtney Stodden, Farrah Abraham, and Project Runway's Michael Costello all came forward with their own negative experiences with Teigen. The situation with Costello, however, escalated quickly after he claimed that she made him feel suicidal and allegedly tried to blackball him from the fashion industry. Not only did her husband, John Legend, get involved, but Teigen herself alleged that his DM receipts were fake and even implied she'd take some legal action.
Ever since then, both parties have retreated to their respective corners, with no further updates whether legal action was indeed taken. (Yet Michael Costello's original Instagam post about his experiences appears to have been taken down.) But amidst all the drama, Chrissy Teigen announced that she was stepping away from a lucrative deal with Kris Jenner, as well as a voiceover role on the newest season of Netflix's Never Have I Ever. That role was later filled by none other than model Gigi Hadid.
It was speculated that Chrissy Teigen would have a sit-down interview with Oprah, Meghan Markle style, in the wake of the controversy. At the time, Teigen claimed to know nothing about the supposed interview but again laughed off the idea of doing it with one of her cyberbully accusers, Courtney Stodden. Considering the polarizing reception that Markle and Prince Harry's interview received, it's probably best for Teigen that her sit-down appears to have just been a rumor.
Chrissy Teigen's approach now is apparently laying rather low. Beyond these run-ins with the paparazzi, she seems content to focus on her family, as she says.
Freelance writer. Favs: film history, reality TV, astronomy, French fries.
Your Daily Blend of Entertainment News
Thank you for signing up to CinemaBlend. You will receive a verification email shortly.
There was a problem. Please refresh the page and try again.