Chrissy Teigen Talks Possible Oprah Interview After Bullying Scandal, Seems To Laugh Off Idea Accuser Courtney Stodden Could Be Involved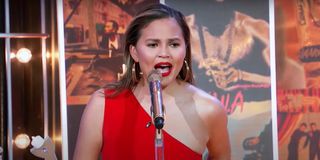 (Image credit: Lip Sync Battle)
Chrissy Teigen has been publicly accused of cyberbullying a few people on social media, with a lot of her past comments appearing to joke about the deaths of others. After the situation was brought to light, the Lip Sync Battle host went on a very public apology tour and even labeled herself as a "troll." But the scandal took a few interesting turns when it came to Michael Costello's allegations against her and how Teigen decided to respond. Now, speculation has been brewing of late that a Meghan Markle-inspired Oprah Winfrey interview with Teigen is in the works to formally address the scandal.
Chrissy Teigen is weighing in on the hype for it and seems to think it's funny that one of her accusers, Courtney Stodden, would be invited to the supposed sit-down. Recently, TMZ caught up with Teigen in the wake of the bullying allegations. She told them that she was doing "good" and that her husband John Legend has been her "everything." When asked about the potential of an Oprah Winfrey interview happening, Teigen only said that she had "no idea" about it, but she did seem to laugh off the suggestion of doing it with Courtney Stodden.
Courtney Stodden, who has been featured in several reality shows since her teen years, was one of the first celebs to come forward that they felt bullied by Chrissy Teigen in the past. As early as March this year, Stodden brought up several of Teigen's old tweets from 2011 (when Stodden was 17), saying "I hate you" and suggesting a "dirt nap" among them. It has since erupted into a full-on scandal with other Teigen tweets and comments about celebs, like Farrah Abraham and Lindsay Lohan, being uncovered.
The consequences of the bullying scandal have been pretty swift for Chrissy Teigen. For example, the star's cookware was taken out of department stores, she dropped out of a Netflix role recently, and even stepped away from her business with Kris Jenner. Perhaps the only way forward for Teigen would be to have a transparent, in-depth interview with Oprah Winfrey after all.
Earlier this year, Oprah Winfrey was able to draw out a lot of details about the notoriously tight-lipped British royal family during her interview with Meghan Markle and Prince Harry. Apparently, Courtney Stodden doesn't think it's a half-bad idea for the same to take place concerning Chrissy Teigen. When asked by TMZ if Stodden, who identifies as non-binary, would join, they said,
Courtney Stodden's comment appears to allude to the rapidly escalating situation between Chrissy Teigen and Michael Costello. Costello accused Teigen of having him blacklisted in the fashion industry and making him feel suicidal due to the "trauma." John Legend got involved, and then Teigen made a lengthy statement that accused Costello of lying and faking DMs.
It is definitely not the best year for Chrissy Teigen, who was once heralded for her sharp tongue and thirst traps on social media. But it only makes sense that if Courtney Stodden would be invited to an interview with Oprah, then Michael Costello would be, too. And it's not looking likely that Teigen would volunteer for that.
Your Daily Blend of Entertainment News
Movies and TV News Writer
Freelance writer. Favs: film history, reality TV, astronomy, French fries.