The Chrissy Teigen Apology Tour Has Turned Into A Mess As Other Celebs Weigh In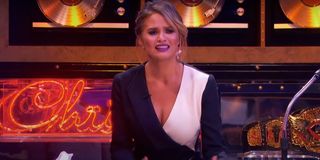 (Image credit: Lip Sync Battle)
Chrissy Teigen has been known as somewhat of a clapback queen in life and on Twitter. She frequently and freely gives her opinion on everyone, whether that be Fox News' Jeanine Pirro or Matthew Perry's Raya match coming forward. But the popular funny gal host of Lip Sync Battle is facing mounting accusations of past cyberbullying. In the aftermath of the allegations, Teigen has had to continue her public apology tour and, to add to the mess, other celebrities are weighing in with their opinions as well.
Initially, reality star Courtney Stodden accused Chrissy Teigen earlier this year of bullying her when she was only 16 years old. She claims Teigen would send her DMs insinuating that she should kill herself. Following the backlash for it – which reportedly got her cookware line removed from shelves and had her recently pulling out of a Netflix role – Teigen apologized for the behavior on Twitter. But now, Project Runway's Michael Costello is coming forward with his own "traumatic" experience about allegedly being bullied by Teigen on social media. The new wave of accusations prompted yet another apology from the former model, as well as the perspective of many others.
What Chrissy Teigen Said In Her Apology
In Michael Costello's account of events on Instagram, Chrissy Teigen labeled him as a racist (due to a false rumor circulating about him) and made efforts to blackball his career in the fashion industry. Per his screengrab receipts of their exchange, Teigen also said he deserved "to suffer and die." Since then, Costello stated that his career has suffered and that he has even felt suicidal.
Many online sympathized with Michael Costello's struggles, prompting a renewed backlash against Chrissy Teigen. The Lip Sync Battle host responded with her second public apology this year. In the lengthy Medium post, Teigen didn't specifically address Costello but said she was "ashamed" and "a troll, full stop" at that time. She would also write:
Gretchen Rossi And Farrah Abraham Called Chrissy Teigen Out After Her Apology
Chrissy Teigen's apology tour didn't stop with her there, however. The situation has attracted the opinions of several other celebrities. Some of whom have rallied to support Michael Costello and condemn Teigen. In Costello's original post, which has now disabled comments, ex-Real Housewives of Orange County star Gretchen Rossi commented (via Page Six):
Farrah Abraham, of Teen Mom fame, was another reality star who also weighed in on Chrissy Teigen's apology for cyberbullying. Apparently, in a 2013 tweet, Teigen allegedly called Abraham a "whore" and said "everyone hates you." In her own Medium post about the mess, Abraham claims she never got a direct apology from Teigen and doesn't really require one. However, she thinks Teigen likely owes one to her child, who had to "witness the aftermath of remarks." She also reflected on the nature of Teigen's blanket apology, saying:
What Leona Lewis Said After Michael Costello Called Out Chrissy Teigen
Chrissy Teigen did have one celebrity to enter the fray in her defense: The X Factor winner Leona Lewis. Following Michael Costello's accusations, the "Bleeding Love" singer revealed on her Instagram stories (via EW) a time in 2014 when Costello abandoned one of her dressing fittings in favor of a charity event, making her feel as though she "wasn't the body type required." She said she was "humiliated" and suffered "personally and professionally" for appearing to not have followed through with an engagement. The singer also wrote:
In response to Leona Lewis' apparent defense of Chrissy Teigen, Michael Costello told Page Six that he didn't understand where it came from because Lewis has requested his clothes frequently over the years and that the claims were "bizarre." However, he has since apologized to Lewis via social media for what took place.
The situation is definitely snowballing into messy territory. Sides are forming and old wounds are being re-opened from every side and angle. We'll see how things progress, as Chrissy Teigen is reportedly angling to do a Meghan Markle-inspired Oprah interview.
Your Daily Blend of Entertainment News
Movies and TV News Writer
Freelance writer. Favs: film history, reality TV, astronomy, French fries.