The Drama Continues For Braunwyn Windham-Burke After Real Housewives, But It's Not All Bad News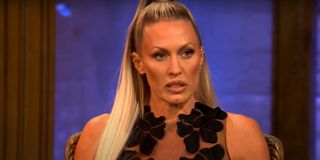 (Image credit: Bravo)
After a dramatic two-season turn on The Real Housewives of Orange County, Braunwyn Windham-Burke got the axe (alongside series alum Kelly Dodd). The 43-year-old's exit manifested on top of a pretty tough year, as she struggled with opening up about being an alcoholic and a lesbian for the first time publicly in her life, as well as the effect it all had on her marriage to Sean Burke. But drama for Windham-Burke didn't stop at Bravo's doorstep. It continued on in the "real life" variety, but the news is apparently not all that bad.
Last week, a civil suit was filed against the ex-Real Housewives of Orange County star and her husband of 21 years. According to Page Six, the lawsuit alleges that the couple owes three months of rent for their previous rental home to the total of $45,000. However, Sean Burke told the outlet that it should be "easy to reconcile." He took responsibility for the legal situation, stating that he is "the one in control of all financial matters," not Braunwyn Windham-Burke, apparently. Moreover, Burke claimed that when the "substantial security deposit" is taken into account that it is a "maximum $7,500 discrepancy."
That actually sounds like a pretty significant discrepancy – $7,500 and $45,000. But Braunwyn Windham-Burke's husband seems confident that it will all be resolved in due course. In fact, this past Friday, he requested that the judge to toss the lawsuit.
The lawsuit against them came about only a few days after they announced an update on their complex living situation/relationship status. So far as the Real Housewives of Orange County fans knew from the show, Braunwyn Windham-Burke and Sean Burke were going to remain together for their 7 kids but would ultimately be dating other people. But as it turns out, the couple are splitting up their living residences. Windham-Burke is set to go to Hawaii for vacation with the kids – with her own house in California in the works – and Burke now has his own rental house. So as you can see, though things might be unusual, they aren't totally going downhill for the reality star.
However, Braunwyn Windham-Burke still has to deal with the aftershocks of her Real Housewives of Orange County notoriety, starting with some hits from fellow ousted co-star Kelly Dodd. Along with feuding with replacement Heather Dubrow in recent weeks, Dodd had actually blamed Windham-Burke for the two of them getting fired. She insinuated that Windham-Burke bringing up too many deep issues prompted Bravo to pursue lighter personalities for Season 16. (It was a kind of ironic claim, considering Dodd generated her own unique brand of controversy last year.)
For her part, though, Braunwyn Windham-Burke had initially stated that she was blindsided by Bravo's decision to not bring her back for the Real Housewives of Orange County. She also seemed to be the source of Kelly Dodd's claims when she herself stated that Bravo wanted to "go another way." Yet when asked about Dodd recently on the S'More Live Happy Hour, Windham-Burke only stated that Dodd was getting "more crazy."
So while some things can turn out for the best, the drama never truly ends for a Real Housewives star. And honestly, most fans probably like it that way (and are hoping that Braunwyn Windham-Burke is brought back into the Orange County fold one day).
Movies and TV News Writer
Freelance writer. Favs: film history, reality TV, astronomy, French fries.
Your Daily Blend of Entertainment News
Thank you for signing up to CinemaBlend. You will receive a verification email shortly.
There was a problem. Please refresh the page and try again.