7 Anthony Bourdain Shows To Watch Streaming Online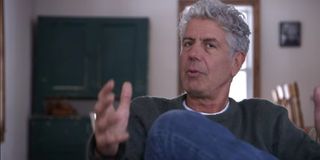 CinemaBlend participates in affiliate programs with various companies. We may earn a commission when you click on or make purchases via links.
Anthony Bourdain revolutionized the way Americans view cooking shows. He highlighted cultures, countries, and cuisines that were not popularized on American television. Shows like Anthony Bourdain: Parts Unknown and Anthony Bourdain: No Reservations were popular among foodies, cooks, and chefs because of Bourdain's passion for bringing food stories and authenticity to his audiences. When Bourdain died in 2018, he was mourned not only by his close friends and family, but globally by those who he connected with on his journey and his fans from all around the world.
In 2021, Focus Features released a documentary called Roadrunner: A Film About Anthony Bourdain. It explores Bourdain's life beyond how viewers got to know him on his cooking programs and through his writing. Roadrunner: A Film About Anthony Bourdain may have made you nostalgic about some of Bourdain's past programs, or it may have just introduced you to him, and now you want to watch some of his shows. Luckily for you, Anthony Bourdain: Parts Unknown, Anthony Bourdain: No Reservations, and other series are available to stream on various platforms.
Let's look at a view Anthony Bourdain shows you can stream or rent now.
Anthony Bourdain: Parts Unknown (HBO Max)
Anthony Bourdain: Parts Unknown began airing on CNN in 2013. It aired for 12 seasons through 2018. The series won Bourdain and team numerous Emmy awards. In Parts Unknown, Bourdain traveled to lesser-known areas around the world to highlight their culture and cuisine. It was a way for viewers to learn a little bit more about countries that may have not been on their radar.
Bourdain explored these parts of the world by going to their restaurants, kitchens, and whatever other places he felt fit to give some history of the country and its culture. Parts Unknown was one of Bourdain's most popular shows. The series is currently available to stream on HBO Max, but was once one of the best cooking shows on Netflix to watch. It may return to Netflix in the near future, so if you don't have HBO Max, you may be able to stream it on Netflix again one day soon.
Stream Anthony Bourdain: Parts Unknown on HBO Max. (opens in new tab)
Buy Anthony Bourdain: Parts Unknown on Amazon. (opens in new tab)
Anthony Bourdain: No Reservations
Anthony Bourdain: No Reservations took Bourdain across the country and to other countries to explore traditions, customs, and local practices of various locations. The series aired on the Travel Channel for nine seasons. It began in 2005 and concluded in 2012.
Bourdain brought his own brand of humor and curiosity to the series. In Anthony Bourdain: No Reservations, he would genuinely be open to learning about a country or place's traditions, but he wasn't afraid to make fun of something if he thought it was a little strange, but he would also make sure to try to understand and explain why it was important to that culture.
Stream Anthony Bourdain: No Reservations on Discovery+. (opens in new tab)
Buy Anthony Bourdain: No Reservations on Amazon. (opens in new tab)
A Cook's Tour (Tubi)
A Cook's Tour aired for two seasons on Food Network. It lasted from 2002 to 2003. The first season of A Cook's Tour had 22 episodes and the second one aired 13 episodes. A Cook's Tour focused on Anthony Bourdain traveling to different countries to try local cuisines. It also featured renowned chefs, like Gordon Ramsay, showing off their skills in their restaurants as they cooked delicious meals for Bourdain.
The purpose of A Cook's Tour seemed to be for Bourdain to go deeper into certain cuisines and dissect and analyze how those dishes help define the country's culture. The premise of the show was inspired by Bourdain's book Kitchen Confidential.
Buy A Cook's Tour on Amazon. (opens in new tab)
The Taste (ABC)
The Taste is a reality TV show that aired on ABC from 2013 to 2015. The primetime reality show combined a lot of different reality TV formats. It was partially like American Idol, The Voice, and America's Got Talent. A panel of judges picked a team of cooks to mentor. The Season 1 judges were Anthony Bourdain, Nigella Lawson, Ludo Lefebvre, and Brian Malarkey. For Seasons 2 and 3, Marcus Samuelsson joined the mentor and judging panel.
What made The Taste a little different from other reality shows is that the contestants were judged based on one bite, at least in the first round. Later, the judges still judged the dishes through blind taste tests. Bourdain was also an Executive producer on The Taste.
Buy The Taste on Amazon. (opens in new tab)
The Layover with Anthony Bourdain (Discovery+)
The Layover with Anthony Bourdain is another Travel Channel original series that follows Bourdain as he travels to different cities around the world exploring their food and culture. What makes this series a little different is that it's about experiencing the city within a 24 to 48-hour timeframe--a layover timeline.
If you only have a day or two in another country, these are the must eat, see, or experience things to do. The Layover with Anthony Bourdain aired for two seasons from 2011 to 2013. It was a fast-paced series that gave you a quick but exciting glance of a foreign or local city.
Stream The Layover with Anthony Bourdain on Discovery+. (opens in new tab)
Buy The Layover with Anthony Bourdain on Amazon. (opens in new tab)
Raw Craft (Youtube)
Raw Craft is a Youtube series by Balvenie US, a malt whiskey company. Anthony Bourdain hosts the show and interviews and highlights individuals who use their hands to make items. This includes famous tailors and snare drums makers. Raw Crafts has 14 episodes total, many under 10 minutes.
Raw Craft gives Bourdain fans the same style and personality of Bourdain just in a different format. You also get to experience some of his other passions that aren't food-related.
Top Chef (Hulu)
Top Chef is a culinary competition series that puts several up-and-coming chefs against one another to win a grand prize. Each week contestants compete in two individual or group challenges. Top Chef began in 2006 and concluded its 18th season in July 2021. The Bravo series hasn't announced, as of July 2021, if the 19th season will be on the 2021 fall TV schedule.
According to IMDB, Anthony Bourdain made 12 appearances as a guest judge from 2006 to 2011, including as a main judge on the Season 4 Restaurant Wars episode. Whenever he appeared on Top Chef, the contestants were both excited and scared of how tough he would judge their food. For a while, he was a staple on the Top Chef franchise. Viewers looked forward to seeing his guest appearances.
Stream Top Chef on Hulu. (opens in new tab)
Buy Top Chef on Amazon. (opens in new tab)
You can catch the Anthony Bourdain documentary Roadrunner: A Film About Anthony Bourdain currently playing at select theaters.
Spent most of my life in various parts of Illinois, including attending college in Evanston. I have been a life long lover of pop culture, especially television, turned that passion into writing about all things entertainment related. When I'm not writing about pop culture, I can be found channeling Gordon Ramsay by kicking people out the kitchen.
Your Daily Blend of Entertainment News
Thank you for signing up to CinemaBlend. You will receive a verification email shortly.
There was a problem. Please refresh the page and try again.