Former Doctor Who Boss Steven Moffat Shares Feelings About Jodie Whittaker's Exit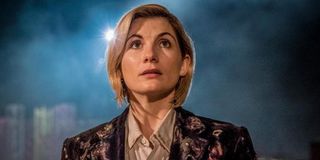 There have been a lot of changes to Doctor Who over the many, many years the BBC show has been around, and it doesn't look like that's going to change anytime soon. Jodie Whittaker, the first woman to take on the massive role of the time and space-traveling time lord, portrayed the 13th regeneration of The Doctor but now, her time as The Doctor is coming to an end. With his, former Doctor Who boss Steven Moffat has now shared his feelings about her exit from the series.
Fans may be sad to see Jodie Whittaker put down her sonic screwdriver, and it turns out Steven Moffat is feeling her impending loss right along with them. In an Instagram post, Moffat shared a touching message about the impending end of Whittaker's tenure in the role. He also thanked Whittaker for taking up the responsibility of portraying The Doctor. Here's exactly what the former showrunner said, in his tribute to both Whittaker and The Doctor:
Seeing how passionate Steven Moffat still is about Doctor Who is heartwarming; his words are unmistakably sentiments of someone who is familiar with the true spirit of The Doctor. His feelings are understandable, too, especially when you consider that he had a hand in writing some of the more moving storylines of the series. And fans are surely grateful for his Doctor Who work, which spanned over a decade in total.
Steven Moffat is a huge name in the BBC network for his work on a number of popular and clever series like Sherlock, and he served as writer, producer, and showrunner on Doctor Who from Season 5 to Season 10 of the show's modern years. Moffat made his exit from the show pretty much the same time Peter Capaldi (the 12th regeneration of The Doctor) moved on from the series, back in 2017.
Of course, Steven Moffat still has plenty of opinions about how things are progressing on the show he left behind, and it's always tough when The Doctor regenerates and becomes a new version of themself. While we don't know for sure who the next version of The Doctor will be at this point, one can only hope they fill The Doctor's shoes as well as Jodie Whittaker and the previous performers did.
Constantly thinking about books, coffee, and the existential dread I feel from Bo Burnham's Inside. While writing I'm also raising a chaotic toddler, who may or may not have picked up personality traits from watching one too many episodes of Trailer Park Boys.
Your Daily Blend of Entertainment News
Thank you for signing up to CinemaBlend. You will receive a verification email shortly.
There was a problem. Please refresh the page and try again.