Ric Flair: 6 Greatest Moments From The Nature Boy's WWE Career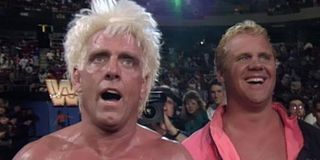 CinemaBlend participates in affiliate programs with various companies. We may earn a commission when you click on or make purchases via links.
To the shock and dismay of wrestling fans around the world, WWE came to terms with the release of Ric Flair in August 2021, bringing an end to one of the greatest chapters, not only in the Nature Boy's career but also the history of the sport. Since jumping ship from NWA and signing with WWE (then-WWF) in 1991, Flair spent large periods of time over the past 30 years stylin' and profilin' as he transitioned from a full-time wrestlers to one of the ambassadors of the company and wrestling as a whole.
So, in honor of the Nature Boy's legendary career and his departure from WWE, we've put together a list of Ric Flair's best moments from his tenure at Vince McMahon's world of wrestling. With everything from his shocking debut to his final match at WrestleMania 24, here are Naitch's best moments
Ric Flair Makes His Debut As The 'Real World's Heavyweight Champion' In September 1991
Throughout the 1980s, Ric Flair was the biggest name in professional wrestling. With monumental runs in Jim Crockett Promotions (which would become World Championship Wrestling), World Class Championship Wrestling, the American Wrestling Association, and other promotions that were part of the National Wrestling Alliance (not to mention his work in various Japanese promotions), Flair was the face of wrestling during the height of the territory days. So, just imagine how big of a moment it was when Flair made his on-screen WWF debut in the early 1990s.
During a September 1991 episode of Prime Time Wrestling, Ric Flair made his first televised WWF appearance following quite an introduction from his "financial advisor" Bobby Heenan and the draping of a red carpet. Proclaiming himself "The Real World's Heavyweight Champion," Flair went on to run down the WWF roster, specifically "Rowdy" Roddy Piper and Hulk Hogan in one of the most epic promos of his career. This appearance would set the stage for things to come…
Ric Flair Wins The 1992 Royal Rumble
There are Royal Rumbles and there is the 1992 Royal Rumble, which saw Ric Flair enter as the third of 30 wrestlers competing for the vacated WWF Championship. Everything about this match (including his iconic entrance) is legendary and will forever be considered one of the greatest nights in professional wrestling. Throughout the match, Flair fought off everyone from Hulk Hogan to The Undertaker and Sgt. Slaughter to Randy Savage, and was ultimately the last man standing when the final bell rang through the Knickerbocker Arena in Albany, New York.
Following the match, Ric Flair, with a tear in his eye, told Gene Okerlund that it was the greatest moment of his life. What follows is Flair's greatest promo (including his amazingly subtle "Woo") where he essentially challenges the rest of the roster to come at him and his gold belt. All of this is going down with Bobby Heenan and Mr. Perfect building him up like a bully's goons. It's amazing. It's classic. It's the Nature Boy in peak form
Ric Flair Returns As 'Co-Owner Of The WWF' In November 2001
Ric Flair's first run with WWF would only last one year from the night of his Royal Rumble 1992 victory and he would head back to WCW after being defeated by Mr. Perfect in a Loser Leaves the WWF match in January 1993. He would go on to add a few more titles to his collection before WCW was bought by Vince McMahon in March 2001. Later that year, the Nature Boy finally made his return to the WWF in spectacular fashion the night after Survivor Series.
The previous night, Team WWF had defeated Team WCW/ECW in a winner-takes-all match that ended the months-long "Invasion" angle involving WCW and ECW. When Vince McMahon was gloating on Raw about winning the war, he was interrupted by Ric Flair's iconic music and Naitch himself who said he became co-owner when Vince's children sold their shares to purchase WCW and ECW (part of the storyline). The amazing segment would end with Flair and new WWF Champion Stone Cold Steve Austin sharing a beer.
Ric Flair Forms Evolution With Triple H, Batista And Randy Orton In 2003
While Ric Flair had one of the greatest careers of any singles wrestler the industry has ever known, he has also been a part of some of the most formidable factions in the sport's storied history, the biggest being the Four Horsemen. But, long after the Horsemen disbanded, reformed, and disbanded again, Flair became one of the founding members of Evolution, which is arguably the most consequential foursome of WWE's "Ruthless Aggression" era.
By the time late 2002 came around, Ric Flair had already started to appear in the corner of Triple H, and would do the same with Batista a few months later. The group was finalized and given its official name in January 2003 when Randy Orton joined, creating Evolution. Over the course of the next two years, the group, which represented the past, present, and future of professional wrestling, dominated the WWE landscape and collected multiple titles in the process.
Ric Flair Finally Captures The Intercontinental Championship At Unforgiven 2005
In 2005, the chink in the armor began to show for Evolution and the heel supergroup slowly began to break apart before finally disbanding later in the year. That September at the Unforgiven pay-per-view event, Ric Flair (a babyface at this point) challenged Intercontinental Champion Carlito for the one strap he had never secured in his WWE tenure. That all changed in their opening match which saw Flair defeat the IC Champion, becoming the oldest person to hold the title at 56 years of age and WWE's 13th Triple Crown Champion (winning all three major titles).
Ric Flair's career could have ended here, but the Nature Boy went on to successfully defend his title multiple times before finally losing the belt 155 days later in February 2006. The following month, Naitch would participate in the second Money in the Bank match at WrestleMania 22.
Ric Flair Wrestles His Final WWE Match At WrestleMania 24 In 2008
In early 2008, when Ric Flair was nearly 60 years old, he began what would be his final angle as a WWE wrestler when he was put in a series of matches where his career was on the line. Over the course of several months he defeated Triple H, Umaga, and even Vince McMahon before finally challenging Shawn Michaels, who reluctantly accepted the offer.
On March 30, 2008, in front of 74,000 fans and millions more watching on pay-per-view around the world, Ric Flair walked to the ring for what would be the final time (at least in WWE). The match, which started off with a beautiful series of back-and-forth maneuvers from the two competitors slowly turned into a very emotional tale of a worn out warrior wanting to go out in glory at the hands of someone who didn't want to do what they had to do. In the final moments, with Flair begging for Shawn Michaels to put him down, the Heartbreak Kid looks at his idol, says "I'm sorry, I love you," and performs his finishing move, Sweet Chin Music, and gets the pin.
Ric Flair had plenty of great moments in the years after he retired from in-ring action, including all the times he helped his daughter, Charlotte Flair, follow in her father's footsteps. And, who knows, maybe we'll see the Nature Boy return at an upcoming WWE event somewhere down the road, because if we've learned one thing over the years it is that we should never say never when it comes to Ric Flair.
Philip grew up in Louisiana (not New Orleans) before moving to St. Louis after graduating from Louisiana State University-Shreveport. When he's not writing about movies or television, Philip can be found being chased by his three kids, telling his dogs to stop yelling at the mailman, or yelling about professional wrestling to his wife. If the stars properly align, he will talk about For Love Of The Game being the best baseball movie of all time.
Your Daily Blend of Entertainment News
Thank you for signing up to CinemaBlend. You will receive a verification email shortly.
There was a problem. Please refresh the page and try again.