Watch A Mom Chase Her Toddler Onto Soccer Field In The Middle Of MLS Game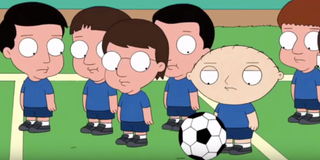 Pretty much every sports fan likes to be able to treat themselves to a day or night out at an actual game from time to time, in order to really soak in the experience of being in a stadium with other fans while the action goes down live on the field. But, one Ohio mom recently had a big challenge on her hands when watching a Major League Soccer game with her young son, as she had to chase her toddler onto the field in the middle of the game.
Parents everywhere will probably know the feeling of having their child get away from them suddenly, and that's exactly what happened last weekend to Moscow, Ohio resident Morgan Tucker. The mom took her 2-year-old son, Zaydek, to his very first soccer game on Saturday to watch FC Cincinnati play Orlando City FC. According to Good Morning America, the game was about 70 minutes in when Zaydek made a break for it, and ran his enthusiastic little self out onto the field during the middle of a play.
Take a look at the frantic action Tucker took to retrieve her son by looking near the lower left corner of this clip, which was posted on the official MLS Twitter page:
Woooo, boy. That's terrifying! Thank goodness everyone in the game was mostly on the other side of the field when Zaydek made his way toward them, otherwise he could have been hurt. And, if you're wondering whether or not you saw everything correctly, yes, Morgan Tucker did, in fact, have to tackle her small child in order to catch him and get the boy off of the field before all of the players made their way back to them. Great save, mom! Congrats on the A+ reaction time!
As Tucker told the outlet, she looked away from him briefly while they were in the stands (sitting in club seats on the sidelines, courtesy of her employer), then turned back to see her son preparing to run, and said:
Tucker added that she did what most parents do at times like these, when they think their kid might get hurt, and acted on "pure adrenaline" when she ran to get Zaydek. Even though her face was "face was as red as a tomato" over the incident, Tucker said she got cheers from the crowd on her way back to the sidelines with her son, and the boy was even gifted the game ball once the match ended.
Luckily, as you can see from the clip, Morgan Tucker mom'd up and got her kid before he got hurt or the game had to be stopped, and everything turned out for the best.
Bachelor Nation, Gilmore Girl; will Vulcan nerve pinch pretty much anyone if prompted with cheese...Yes, even Jamie Fraser.
Your Daily Blend of Entertainment News
Thank you for signing up to CinemaBlend. You will receive a verification email shortly.
There was a problem. Please refresh the page and try again.