Big Brother 23 Spoilers: Where Each Houseguest Stands After Derek X's Big Move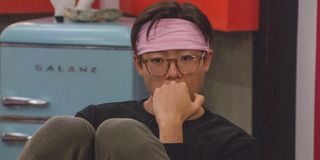 Warning! The following contains spoilers from the Big Brother live feeds. Read at your own risk!
Derek Xiao teased an ambitious plan to backdoor Christian Birkenberger during Sunday's Big Brother episode, and for those who haven't been watching the live feeds, the plan is in motion. After a clutch veto win by Britini D'Angelo, Christian is up on the block next to Sarah Beth Steagall, but can Derek X actually pull this off?
After all, Derek X preferred to see Britini and Christian on the block together, because he knew Sarah Beth had a target on her back. With that being said, here's where all the voting Houseguests' heads are prior to Thursday's vote, and whether Derek X can succeed with the biggest blindside of the season.
Alyssa Lopez
Alyssa Lopez was absolutely devastated that Christian Birkenberger was put up for nomination following the veto, and has been doing everything she can to campaign for her showmance partner. Truthfully, it seems the Big Brother Houseguest has done more harm than good, as she unsuccessfully attempted to convince other players she only really wants Christian in the game a bit longer. Obviously, everyone knows they have a Final 2, and the lack of honesty isn't going to help her win Christian votes. She'll vote for Christian anyway, and hope for the best.
Derek Frazier
Derek Frazier isn't concerned who goes between Christian and Sarah Beth Steagall, but he'd like both of them gone. Derek thinks Sarah Beth is sneaky, but ultimately, getting her out can wait. He's stated that past Big Brother players made the mistake of not voting out "comp beasts" when they get the chance, and he's not about to let that happen. Plus, voting out Christian would make Alyssa Lopez upset, and Derek wouldn't be too hurt about that happening either given she's floated his name for eviction. He's voting Christian unless the majority suddenly shifts and tells him otherwise.
Azah Awasum
Azah is not a fan of Sarah Beth Steagall and would like to see her leave the game sooner than later. Like Derek Frazier though, she feels like Christian Birkenberger is the bigger fish, and getting him out will keep her and the members of The Cookout alliance safe for that much longer. Even so, Azah participated in disparaging Sarah Beth this week on the live feeds, mostly in an effort to ensure she's back on the block whenever the next Head of Household comes to power. She'll vote Christian out, and lose zero sleep over doing so.
Kyland Young
Kyland Young has been Derek Xiao's biggest supporter in the backdoor plan, mainly because Sarah Beth Steagall is his Final 2 partner. Losing his biggest ally would be terrible for his game, so he's done everything he can to help steer people towards evicting Christian Birkenberger. Kyland's allegiance to Sarah Beth is pretty well known, so I don't imagine Alyssa Lopez or Christian will try to do much to secure his vote.
Tiffany Mitchell
Tiffany Mitchell was pretty dead-set on hanging Derek Xiao out to dry and eliminating Sarah Beth Steagall with the support of some conspirators. In her mind, she could find safety behind Christian Birkenberger, who would then pursue evicting Derek X. Now that the plan is in motion, she's had a change of heart, and now on board with voting out Christian. Even so, she's still scheming and gave Christian tips on how he could save himself just in case and has suggested The Cookout mask their votes and create a 5-4 eviction vote. Not sure anyone will bite, or if it needs to happen, but I respect the hustle.
Xavier Prather
Xavier Prather was not at all happy to learn two Kings were going on the block, but if one had to go, he hoped it would be Sarah Beth Steagall. He's still hoping Christian Birkenberger can pull a miracle in the coming week, and even if the vote is worthless, he's still likely going to support Christian with a vote. After all, voting for Christian could help him score points with Alyssa should she be in the jury and he makes the Final 2. He'll likely vote for Christian, but he's come to terms that the vote likely won't go his way.
Claire Rehfuss
Claire Rehfuss is another one of the Houseguests who wanted to see Sarah Beth Steagall evicted from the Big Brother house, and even conspired a bit with Tiffany Mitchell about flipping the vote. With that being said, Claire absolutely supported Christian Birkenberger leaving before Sarah Beth, and always seemed like someone who would back out of the vote flip if it got some serious traction. I would expect her to vote out Christian unless she's tipped off about a vote flip, and if there is a vote flip, she'll be one of the people to question it.
Britini D'Angelo
Britini D'Angelo is, quite frankly, the only reason this Big Brother blindside is happening. She has also historically been a huge fan of Christian Birkenberger, but Derek Xiao got her hyped about voting him out of the house by pointing out none of this would happen without her clutch win. Now Britini is all-in on sending Christian home, and none the wiser that Derek X fully intended on sending Britini home if the nominations stayed the same. That said, Britini would've likely stayed over Sarah Beth Steagall anyway, so it's not like she was ever in any real danger.
Hannah Chaddha
Derek Xiao's Final 2 partner Hannah Chaddha was a big part in this plan coming together, and even she considered flipping the vote to get Sarah Beth Steagall out for a minute! Of course, Hannah has been a sneaky player, so it's more likely she was just covering her bases and wanted what Derek X wanted the whole time. She's going to do what she can to ensure that Christian Birkenberger leaves the house in private but certainly use Alyssa Lopez to gather more intel on the Houseguests and what people are saying about her.
If it wasn't apparent by reading all that, Christian Birkenberger currently has a snowball's chance in hell of staying in Big Brother. Miracles have happened in this game before though, and it's always possible someone's actions could flip the house entirely. I don't personally see that happening given Christian has won close to 50% of the competitions in Season 23 so far, but I'd be down for a little chaos if he does pull it off!
Big Brother airs on CBS (opens in new tab) Sundays, Wednesdays, and Thursdays at 8:00 p.m. ET. CinemaBlend has been doing interviews with evicted Houseguests all season, so be sure to check out our recent interview with Whitney Williams on her future plans with Xavier Prather here.
Mick likes good television, but also reality television. He grew up on Star Wars, DC, Marvel, and pro wrestling and loves to discuss and dissect most of it. He's been writing online for over a decade and never dreamed he'd be in the position he is today.