Big Brother 23 Spoilers: Who Each Houseguest Might Nominate In The Week 6 HOH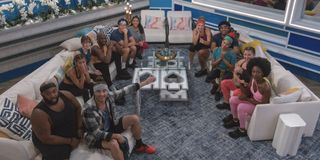 Spoilers ahead for the Big Brother live feeds through Thursday, August 10.
Big Brother Season 23 is headed to Week 6, and things could not be more chaotic. A line was drawn in the debate of whether to send Sarah Beth Steagall or Christian Birkenberger home and as Houseguests still make plays to try and overturn the vote for their side, alliances are shifting.
For that reason, it's useful to do a brief rundown of who each Houseguest might nominate for eviction should they win this week's Head of Household. This article is being written before the Week 5 eviction, so we included Christian and Sarah Beth both in on the conversation even though one will leave before the competition (and it's looking like we know who). After all, we should always "expect the unexpected," right? Also, Derek Xiao's Week 5 HOH means he is ineligible to win this week, so keep that in mind as we run through what each Houseguest might do.
Alyssa Lopez
Alyssa Lopez is out for blood after this week, and I believe she'll do whatever she can to get Derek Xiao out of the game. Even if her showmance Christian Birkenberger were to stay, it feels highly unlikely she'd honor the agreement to keep Derek X safe this coming week, given he's played little part in the effort to keep Christian. My thought here is that Derek X would be the target, and his Final 2 partner Hannah Chaddha or a pawn like Britni D'Angelo would be thrown up as well. There's also a scenario where with Christian gone, Alyssa could gain favor with many Houseguests re-nominating Sarah Beth Steagall and making her the target. She's got a lot of grudges, so there's a lot of options here.
Xavier Prather
Xavier Prather has spent the past 24 hours playing house dad and trying to ensure The Cookout doesn't implode and self-cannibalize itself. In short, his Head of Household would probably be a move to reunify that alliance. Xavier already nominated Britini D'Angelo once, so re-nominating her and making her the target would be a safe and predictable elimination that wouldn't make a ton of waves. Other options include nominating Claire Rehfuss, Sarah Beth Steagall, or Derek Xiao, but all three of those people are tied to Cookout alliance members' games. I'm inclined to think then that Xavier would target Britini, but I wouldn't be surprised to see Derek X on the block either if Xavier is looking to remove another comp threat.
Derek Frazier
Derek Frazier had a huge fight with Tiffany Mitchell recently over her attempt to flip the vote, and the tension between the two, whenever they're in the same room, is palpable. The only thing preventing him from nominating her is their shared commitment to get The Cookout to the Final 6, so she'll likely be safe from his wrath if he's Big Brother's next Head of Household. Derek F. isn't a huge fan of Alyssa Lopez, Sarah Beth Steagall, and he talks next to zero strategies with Claire Rehfuss. These targets seem most likely, though that's not to say they make the most sense for his game. All fans have really heard is Derek's emotions and not so much on his strategy, so I'd have to think he'd run an HOH based on personal feelings.
Azah Awasum
Azah Awasum is also anti-Tiffany Mitchell at the moment and has been even before the drama of the attempted vote flip. Azah is loyal to The Cookout, though I've at times wondered if she's so loyal that she'd overlook a chance to take out Tiffany if she thought she could make it happen. That aside, Big Brother fans know Azah sees both Sarah Beth Steagall and Hannah Chaddha as threats to her game. The thing is, Hannah is also a part of The Cookout, so I think Azah would nominate Sarah Beth or maybe even Claire Rehfuss or Alyssa Lopez. Basically, I think if Azah likes a person or they're in The Cookout, they're safe. I do still see a potential surprise nomination of Tiffany if she thinks the votes are there, though, and man, would that be a crazy week.
Britini D'Angelo
Britini D'Angelo was at the center of a lot of drama this week, but truthfully, I don't see any of that playing into her hypothetical Big Brother HOH. Britini would love to nominate Xavier Prather for putting her on the block and probably Kyland Young as well. I can see Derek Xiao getting a pass for his nomination of Britini, but only because he signaled to her she was a pawn well before the veto, and she played a part in the backdoor nomination. Britini's rhetorical nomination would put up two members of The Cookout, which would really put that alliance to the test. Would the alliance hold strong and navigate that situation despite the recent falling out of some of its members? I'd love to find out.
Tiffany Mitchell
Tiffany Mitchell is still fuming over the latest fight she had with Derek Frazier and Azah Awasum, and Big Brother fans shouldn't expect that incident to be water under the bridge anytime soon. That being said, Tiffany just stuck her neck out in a major way, trying to save Christian, which meant she made it obvious to Sarah Beth Steagall she doesn't want her in the house. If Tiffany wins, she'll almost absolutely nominate Sarah Beth as the target and probably use Britini D'Angelo as a pawn. Her main goal this week is to get any targets she's acquired in the past 24 hours back off her back, and I think she can do that hyper-focusing on Sarah Beth if she's Head of Household.
Claire Rehfuss
Claire Rehfuss has had immunity the past two weeks on Big Brother, and with the jury presumably starting following Week 5, she's now officially up for elimination again. She's not in a spot where I think she needs to win, and honestly, winning may paint a target on her back. If Claire does win, though, I think her obvious play would be to nominate any two of the former Jokers team, which means Britini D'Angelo, Azah Awasum, or Derek Frazier. Two weeks ago, Tiffany Mitchell may have tried to steer her one way over another to protect The Cookout, but this could present a sneaky opportunity to get rid of Azah or Derek F. while keeping the blood off her hands. Claire would be one of the winners I'd be most interested in, so I'm manifesting this Big Brother victory.
Hannah Chaddha
Unless Hannah Chaddha believes her Final 2 partner Derek Xiao is in immediate danger, she won't fight too hard for this Head of Household. Hannah has played a quiet but effective game so far, but because of that, I imagine her HOH nominations would be rather basic. She'd likely nominate Britini D'Angelo and Sarah Beth Steagall and push for Sarah Beth to be the one out of the house. Of course, If Christian were to stay she'd likely target him again and hope the house doesn't miss another golden opportunity to eliminate him.
Kyland Young
Kyland Young made it clear he wanted Sarah Beth Steagall in the game, and if he gets that wish, he'll have an opportunity to exact some revenge. With that said, I'm not sure who he could target that was anti-Sarah Beth, given a good number of them are in The Cookout alliance. If he's looking to honor the alliance, then he'd nominate Britini D'Angelo and maybe also put up Alyssa Lopez. I think he'd be fine with either of those two leaving the house, as would the rest of the Big Brother house.
Sarah Beth Steagall
Sarah Beth Steagall's game was obliterated this week thanks to other Houseguests, and outside of Kyland Young, she really has no one. She has plenty of people she can target, though, and I'd expect her to nominate and target Tiffany Mitchell as soon as she got the opportunity. I'm not sure she'd be able to eliminate Tiffany without also putting up another member of The Cookout, and since Sarah Beth doesn't know about The Cookout, it would be up to chance for that to happen. Other potential nominees would definitely be Alyssa Lopez, and of course, Britini D'Angelo.
Christian Birkenberger
It's looking incredibly likely that Christian Birkenberger won't be around to compete for the Week 6 Head of Household, but if by some miracle he is, expect fireworks. Christian has made a ton of promises since he was nominated, but honestly, I'd expect him to honor none of them and proceed to nominate Derek Xiao and Hannah Chaddha for not honoring his Final 4 deal with Alyssa Lopez. I'd fully expect Derek X to leave the house if he didn't win the veto, but if he did, then I think Christian would throw up Britini D'Angelo since she's Big Brother Season 23's ultimate pawn. Honestly, it's hard to entertain this scenario because, by all accounts, Christian seems dead in the water.
Big Brother airs on CBS Sundays, Wednesdays, and Thursdays at 8:00 p.m. ET. Tune in for more updates on the live feeds and for more on what evicted Houseguests have to say about their time in the house.
Mick likes good television, but also reality television. He grew up on Star Wars, DC, Marvel, and pro wrestling and loves to discuss and dissect most of it. He's been writing online for over a decade and never dreamed he'd be in the position he is today.
Your Daily Blend of Entertainment News
Thank you for signing up to CinemaBlend. You will receive a verification email shortly.
There was a problem. Please refresh the page and try again.