Star Wars: The Bad Batch Season 1 Ending Explained: What Happened To Nala Se?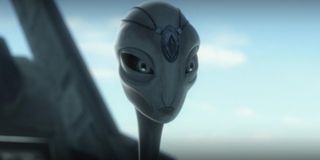 CinemaBlend participates in affiliate programs with various companies. We may earn a commission when you click on or make purchases via links.
SPOILER ALERT: We're about to discuss the Star Wars: The Bad Batch Season 1 ending.
Star Wars: The Bad Batch's Season 1 ending was a great way to cap off all the sci-fi action we saw throughout the series, though there was a lot to digest. The Season 1 finale seemingly set the stage for what will be a big Season 2 and put one key character, Nala Se, on a collision course with what could be a key piece of the puzzle in a big sequel trilogy mystery.
Whether you're someone who binged every episode week to week, or someone who is a bit behind and curious about what's up ahead, this runs down is for you. We'll get into where major characters ended up, what we learned in the Star Wars: The Bad Batch finale, and speculate a bit on what could be ahead in Season 2 and added to Star Wars canon.
Nala Se's New Role With The Empire
The Empire has hinted all through Star Wars: The Bad Batch Season 1 that it was done with Kaminoans and the Clone Troopers, and in the finale, we saw just how serious they were. The cloning facility was obliterated, and though we didn't see it on camera, it looked as though Prime Minister Lama Su was killed after he threw Nala Se under the bus. Fortunately for Nala Se, The Empire was done with Clone Troopers but apparently not done with clones. Nala Se was led to an Empire-run facility and told it would be a place where her talents would be appreciated.
The assumption I have is that Nala Se will help the Empire with its cloning efforts. It's no secret Emperor Palpatine's resurrection was carried out in part through the cloning process, in both his body and through Snoke Strands. Whether or not Nala Se directly contributed to those efforts remains to be seen, but I'd have to believe that the reason the Empire spared her was for her expertise and accomplishments with what she did at the cloning facility.
What Happened To Clone Force 99 And Omega
Star Wars: The Bad Batch's Season 1 ending kicked off with Clone Force 99 trapped in the cloning facility with Omega and trying to survive its destruction by the Empire. To make matters worse, they were trapped with Crosshair, though ultimately, they were able to sway their former friend-turned-foe into a truce so they could all live to fight another day. There were a couple of close calls, but ultimately, they survived the onslaught and made it to safety.
Clone Force 99 and Omega survived, but ultimately, they had to get to safety once again. They are all still ultimately fugitives of The Empire, so they had to once again get in their ship and likely get back into hiding with the help of Cid. For now, they're still running errands for Cid but after that, what's next? The obvious answer would seemingly be that they'll join the Rebel Alliance, but whether that happens in Season 2 or another season down the line remains to be seen.
What We Learned About Omega
A lot of the mystery behind Star Wars: The Bad Batch may have been answered in the Season 1 finale with Omega. Episode 16 confirmed that, despite appearance, Omega is older than the members of Clone Force 99. The takeaway there would seemingly be that while Omega is also a clone of Jango Fett, she does not age at an accelerated rate as the other clones do. This would explain why she was such a valued prize the Kaminoans wanted so desperately and why Clone Force 99 had trouble keeping a hold of her from the bounty hunters.
My theory is that The Empire knows about Omega's unique trait and that Nala Se is wanted to try and help create a more viable clone for Emperor Palpatine to live within. We've learned in other Star Wars works that Supreme Leader Snoke was cloned to be a puppet of Palpatine, but that many clones were needed because of how much strain the Emperor put on the bodies. If Nala Se could replicate what she did with Omega, perhaps she could also develop a clone that was a bit more viable and durable than others. Again, this is only speculation, but I would wager Nala Se plays a key part in the cloning process for The Empire.
What Happened To Crosshair
Most of Clone Force 99 was able to resist and ignore the implanted chip that led to many committing Order 66, but Crosshair was an exception. He wasn't fully hypnotized by the directive but still went about following orders until Hunter gave him a direct command to stop. Crosshair's implant was strengthened by The Empire when he joined their cause to bring in the rest of Clone Force 99, and it was assumed that played a large part in his continued pursuit of him.
The Star Wars: The Bad Batch Season 1 ending revealed that Crosshair had his implant removed some time ago, and yet he's still working with The Empire and rejected an opportunity to re-join Clone Force 99. It would seem Crosshair is still a good soldier, even when not hypnotized into being one. Still, his willingness to allow Clone Force 99 to escape and save Omega show that he's not completely lost, though I wouldn't expect him to become one of the good guys anytime soon.
What Does This Mean For Star Wars: The Bad Batch Season 2?
We can only speculate on how Star Wars: The Bad Batch's Season 1 ending will impact Season 2, though it does seem the animated series has made some connections to the live-action Star Wars shows. For example, we saw a cloning facility in The Mandalorian Season 2, and The Empire took one of Kamino's top clone scientists into its care at the end of The Bad Batch Season 1. Let's also remember Boba Fett is a clone of Jango Fett just like many of the main characters of this show, so there's a connection there.
I don't think it's crazy to speculate that more answers about clones are on the way in Star Wars: The Bad Batch, and possibly some answers that Star Wars fans still have regarding Emperor Palpatine's eventual return. Of course, he's still very much alive in this Disney+ series, but I think there's a good chance that characters like Nala Se and others could lay the groundwork for his eventual rebirth. The best we can do is wait and see!
Star Wars: The Bad Batch Season 1 is available to stream in its entirety on Disney+. For more on Star Wars television, check out our latest guide on the upcoming series Andor, and the things we know about it so far.
Mick likes good television, but also reality television. He grew up on Star Wars, DC, Marvel, and pro wrestling and loves to discuss and dissect most of it. He's been writing online for over a decade and never dreamed he'd be in the position he is today.