How The Boys' Critical Success For Season 2 Should Inspire Stranger Things And More Hit Streaming Shows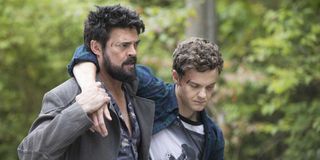 (Image credit: Amazon)
The Boys debuted back in 2019 as an unconventional take on the superhero genre that was definitely unlike anything else on Amazon Prime, or any other streaming service. In a time when the heroes of the MCU or the DCEU or even the Arrowverse were touted for fighting the good fight often at great personal cost, The Boys presented superheroes as dangerously shallow celebrities at best and sinister figures at worst. Fans flocked to the first season and returned for the second, but it was the second that was such a critical hit that the show scored some Emmy nominations.
The superhero genre was rarely given much critical awards attention prior to 2021, and the upcoming 2021 Emmys are arguably the first where any superhero series is actually in contention to potentially win a notable category. So, what awards is The Boys up for, and why does showrunner Eric Kripke think Season 2 earned more recognition from critics compared to Season 1? And how can The Boys' critical success for Season 2 inspire other hit streaming series, like Stranger Things? Let's dig into it.
How The Boys Is Being Recognized At The Emmys
The Boys did receive some awards recognition for the first season, in the form of a Creative Arts Emmy nomination for Outstanding Sound Editing, but ultimately did not win. Besides, if a show wants to win the TV version of a major Academy Award, that means first getting nominated for the Primetime Emmys. The Creative Arts Emmys are every bit as important to honor the deserving hard workers in the industry, but the Primetime Emmys are the ones that people take time to tune into for three hours on a Sunday night.
The Boys Season 2 was nominated for Outstanding Drama Series and Outstanding Writing for a Drama Series for the 2021 Primetime Emmys, which is a big deal for a show that was only recognized for Sound Editing at the Creative Arts Emmys for the first season. Plus, Season 2 also scored some more nominations in Creative Arts: Outstanding Original Music and Lyrics, Outstanding Sound Mixing for a Comedy or Drama, and Outstanding Special Visual Effects. Way to go, The Boys Season 2!
Will The Boys win all – or any – of its categories for Season 2? It's too soon to say, but it's definitely up against some stiff competition for Outstanding Drama, including past winner The Handmaid's Tale. Still, even getting these nominations is a huge accomplishment for its genre, especially when the show didn't actually change all that much from Season 1. So, why did Season 2 get so much well-deserved acclaim when Season 1 didn't fare so well in awards recognition?
Why The Boys Is Being Recognized At The Emmys (This Time)
Fans can argue back and forth about whether the first or second season of The Boys was better, although I do think everybody will be able to agree that the exploding whale was a particularly notable moment that doesn't really have a Season 1 equal. But critics seem to prefer Season 2, and showrunner Eric Kripke has a pretty straightforward theory about why, and it all ties back to a change for Season 2's release that was pretty unpopular at first.
The first season of The Boys followed the Netflix model, with Amazon dropping all eight episodes at once for viewers to binge-watch. To contrast, the second season dropped the first three episodes at once, the switched to a weekly release for the next five. Fans who wanted the full Season 2 experience all at once were out of luck, but showrunner Eric Kripke stands by the decision for more than one reason. First and foremost, the binge model just wasn't what he wanted for his series, as he told The Wrap:
As somebody who has lost more than my fair share of sleep from binge-watching to avoid getting spoiled, I can appreciate Eric Kripke pointing out that bingeing isn't actually the healthiest thing to do! And even if cliffhangers lasted a lot longer between episodes in Season 2 than just moving on to the next episode in Season 1, there was more time to really absorb the twists. And Kripke credits that time for the Emmy nominations:
According to Eric Kripke, The Boys "absolutely" would not be up for the top prize in the Emmys' drama category if not for the switch to weekly release, and his statement that it helped The Boys break through in a way that bingeable streaming series generally haven't raises the question: what other shows could be helped by switching to weekly releases?
How Other Shows Could Be Inspired
Well, if we're going to look at shows that release full seasons at once, then we need to put our attention at the leader in streaming television: Netflix. The binge model comes from Netflix, and has been embraced by other streamers ranging from Amazon to Hulu to even the much newer Peacock, to name a few. That said, non-Netflix streamers have begun to move away from the binge model more frequently, with Disney+ in particular finding great success by releasing its Star Wars and Marvel shows weekly.
Since The Boys can serve as a case study of sorts by virtue of dropping one season all at once and then dropping another weekly for comparison, and since The Boys got so much positive critical attention for Season 2, we can apply what happened for Amazon's show to what could work for Netflix shows. And this brings us to Stranger Things, which is arguably the biggest hit in Netflix history for not only the size of the audience, but also the impact on pop culture.
Now, Stranger Things has actually been celebrated at the Primetime Emmys in some big categories, including Outstanding Drama Series for all three seasons so far, as well as some acting, writing, and directing nods. And Stranger Things has even won some Emmys, in Outstanding Main Title Design, Outstanding Original Main Title Music, Outstanding Single-Camera Picture Editing, and Outstanding Sound Editing.
But when I look at the multiple writing and directing nominations, as well as the episodes for which those nominations were awarded, I can't help but think that their odds of winning would have been better if those episodes stood alone, rather than as one piece of a binge-watch experience. Admittedly, I've been crossing my fingers for Netflix to release Stranger Things weekly just for story purposes for a while now, but it could work for critical purposes as well.
And there are other shows that haven't received any nominations that arguably deserve them, mostly notably (in my humble opinion) The Haunting of Hill House and The Haunting of Bly Manor, which were both spectacularly spooky, visually gorgeous, and tightly written to the point that I've long wished that I could un-watch and watch them again for the first time just for the experience all over again.
Sex Education is another show that could use some critical acclaim, and I'd argue that Mindhunter deserved more nominations than just Outstanding Guest Actor and Outstanding Cinematography. Sure, there are the shows like The Crown and Ozark that have won some big Emmys, and others like Bridgerton and The Queen's Gambit that stacked up the nominations, but I think switching to weekly releases could really benefit certain shows, even if it was just changing to two or three episodes a week rather than one.
Will Netflix change its binge model for something as big as Stranger Things? Honestly, probably not, and people are going to watch it no matter how it's released, but The Boys' critical success for its second season is at the very, very least proof that switching from the binge model to a weekly release doesn't necessarily hurt a series.
The 2021 Primetime Emmys air on Sunday, September 19 at 8 p.m. ET on CBS, if you want to tune in and see if The Boys gets to claim any trophies for Season 2. If not, there's always Season 3!
Laura turned a lifelong love of television into a valid reason to write and think about TV on a daily basis. She's not a doctor, lawyer, or detective, but watches a lot of them in primetime. Resident of One Chicago, the galaxy far, far away, and Northeast Ohio. Will not time travel, but will sneak references to The X-Files into daily conversation.