The Boys Reveals New Season 3 Superhero And Another Mysterious Organization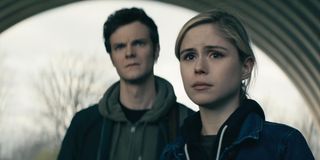 Season 3 of The Boys is already shaping up to be a big one as more details are emerging on the Amazon series. While Jensen Ackles will be suiting up as Soldier Boy, he won't be the only superhero arriving on the scene in the upcoming season. And not only that, one organization is going to be deep trouble for The Seven.
A New Superhero
Via the Vought News Network, a "new" superhero is introduced. Triple threat superhero Supersonic has been shooting up Vought's global hero charts. Once a teen heartthrob known as Drummer Boy who was absent from the spotlight for while, he apparently is coming back and better than ever as he's beaten his addiction thanks to the Global Wellness Center by Vought. Starlight, meanwhile, had a thing with Supersonic during his Drummer Boy days. It's likely their past relationship could play a big part in the upcoming season since The Boys is already dropping clues about it, but just how large remains to be seen.
Global Wellness Center
Going off of Supersonic's headline story, it seems there will be a new organization coming into the fold in Season 3. The Global Wellness Center by Vought is where Supersonic evidently spent his time away from saving people to deal with his addiction. While the news story didn't specify what exactly the wellness center is all about, this is just enough to get fans to speculate what will come of it. Big organizations on The Boys never turn out to be a good thing, as we've all seen what the Church of the Collective was really about in Season 2. Plus, a direct tie to Vought isn't exactly a sign that the Global Wellness Center is likely to be full of allies for the good guys.
Amazon and The Boys created a fictional but very fun news network to keep fans entertained and up to date on all things Vought and The Seven while they wait for Season 3. It's just as outrageous as the series but it's a great way to find out any information on the upcoming season in a different way. It seems like the series won't be short on superheroes in Season 3, but just what does this mean for The Seven, especially Starlight and her relationship with Hughie?
Meanwhile, Vought's Global Wellness Center will be an interesting storyline as organizations tend to not be at all what they are thought to be. Could this be the latest one that The Boys will have to take down? And will Supersonic have anything to do with it? Hopefully we'll get those answers and more in Season 3.
The upcoming season of The Boys has gotten some intriguing teases over hiatus, with new characters, highly-anticipated storylines and all of the chaos that will happen. There is still no known date yet for Season 3, but it's possible it could still drop on Amazon later this year. Production started earlier this year and things have been progressing, as can be seen in some photos posted by cast members like Jack Quaid and Jensen Ackles.
Just what will Supersonic and the Global Wellness Center bring to The Boys? Make sure you tune into Season 3 to find out! Keep a lookout for more news about Season 3 of The Boys on CinemaBlend and check out our fall 2021 TV schedule to see what shows to look forward to!
Passionate writer. Obsessed with anything and everything entertainment, specifically movies and television. Can get easily attached to fictional characters.
Your Daily Blend of Entertainment News
Thank you for signing up to CinemaBlend. You will receive a verification email shortly.
There was a problem. Please refresh the page and try again.