After The Last Dance's Scottie Pippen Questioned His Toughness, Charles Barkley Claps Back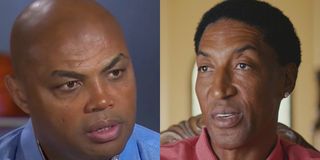 There's a lot of passion wrapped up in the world of sports, as players can get incredibly competitive when they're facing off with each other. Unfortunately, this can sometimes lead to bad blood when the game is done. This is certainly true when it comes to professional basketball, which has seen a number of high-profile feuds over the years. At the moment, Scottie Pippen, who made headlines following his appearance on ESPN's The Last Dance, is engaged in a back-and-forth with fellow NBA legend Charles Barkley. Pippen initially questioned Barkely's toughness and, now the sports pundit has clapped back.
Charles Barkley and Scottie Pippen were NBA opponents for years. Most probably remember when Pippen's Chicago Bulls and Barkley's 76ers (and Phoenix Suns) would duke it out on the court. But ironically, the two players would actually come into conflict as teammates while playing for the Houston Rockets in the late '90s. Their relationship became so bad that Pippen once said Barkley "can never expect an apology from me."
Scottie Pippen added more fuel to the fire during a June interview with GQ, in which he said that Barkely only "plays his role like he's tough." More recently, Barkley appeared on ESPN's Waddle and Silvy (via The New York Post) and aired some thoughts of his own. The Inside the NBA host asserted that he's tougher than Pippen and even went as far as to question his former teammate's own status as a tough guy:
Needless to say, Charles Barkley did not mince words, which pretty much falls in line with what we know about the Hall of Famer. Likewise, Scottie Pippen is not one to hold back his feelings on a topic. And as it so happens, the celebrated Chicago Bull has been very honest about a situation involving another one of his former teammates.
Scottie Pippen has also been vocal about The Last Dance and how he was seemingly portrayed in the ESPN docuseries. Many believed Pippen was made to look selfish, though the former player initially shrugged off the claims, saying he was fine with the show. However, he later changed his tune and stated his belief that the doc was less about the Bulls team and more about Michael Jordan "trying to uplift himself and to be glorified." Pippen says he even talked to Jordan about this and has apparently not spoken to him since.
History is a funny thing. It illuminates things and at times, helps to guide our steps into the future. But it can also bring up old wounds, as evidenced by the state of Scottie Pippen's relationship with his former teammates. In regard to Pippen and Barkley, the chances of a reconciliation seems unlikely at this point, but stranger things have happened in the realm of professional sports.
Covering superheroes, sci-fi, comedy, and almost anything else in film and TV. I eat more pizza than the Teenage Mutant Ninja Turtles.
Your Daily Blend of Entertainment News
Thank you for signing up to CinemaBlend. You will receive a verification email shortly.
There was a problem. Please refresh the page and try again.