Watch The Good Doctor's Shaun Explain His Sex Life With Lea Over Breakfast In Season 4 Deleted Scene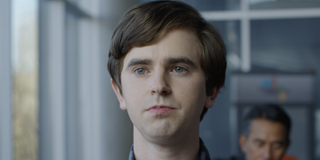 The Good Doctor has taken Freddie Highmore's Dr. Shaun Murphy on a wild ride of some very high highs and some very low lows over the years, and his evolution has kept fans hooked for four seasons and counting. Moving in with Lea in Season 4 was a big step and came with plenty of complications, but as the deleted scene (seen above) proves, there was also plenty of humor and heart to be found from Shaun enjoying a sex life...and over-sharing about it over breakfast with Dr. Glassman.
This deleted scene of a classic breakfast between Shaun and Dr. Glassman (played by Richard Schiff) comes as part of the bonus features from The Good Doctor's Season 4 DVD set available now, and it's worth at least a couple of rewatches just to really absorb Glassman's reactions to Shaun's matter-of-fact reveals about breaking in the new mattress.
Of course, Dr. Glassman is more than used to these conversations with Shaun, and his commendation of Shaun for just going with what Lea wants is downright endearing. While some things have changed over the years of The Good Doctor, their dynamic remains one of the pillars of what keeps the action at St. Bonaventure grounded.
That St. Bonaventure action took a twist in Season 4, and not just because the season opened with a powerful two-parter that addressed the COVID pandemic as well as the loss of Dr. Melendez at the end of Season 3. As a fourth-year resident, Shaun had to begin supervising a new set of residents, which presented some new challenges and introduced some new characters, even if not all of those newcomers were fated to stick around in the long term.
While the doctors of St. Bonaventure rose to the occasion and tackled the challenges that fell in their path, Season 4 certainly wasn't without tragedy, with the staff losing one of their own all the way through to Shan and Lea's heartbreaking miscarriage. The Good Doctor even lost a longtime series regular in a tearful farewell, although at least in this case, the tears were happy as well as emotional. Antonia Thomas' departure came about with a wonderful final story for Dr. Claire Browne, and one that could be revisited in the future.
You can find a "Farewell to Antonia Thomas" segment on the DVD bonus features to go with the deleted scenes, as well as a blooper reel and of course all twenty episodes of Season 4. The DVD set is available starting on Tuesday, August 31, and the timing couldn't be much better considering the beginning of fall TV season. The Good Doctor returns for Season 5 on Monday, September 27 at 10 p.m. ET on ABC.
It will be the first season without Antonia Thomas on board as a series regular, and Shaun could well be called upon to show more leadership without her on hand. Fortunately, both Shaun and Lea got a very happy ending to Season 4, despite their earlier loss. As of the end of the fourth season, they are engaged to be married, and hopefully will continue to hit positive milestones moving forward.
Resident of One Chicago, Bachelor Nation, and Cleveland. Has opinions about crossovers, Star Wars, and superheroes. Will not time travel.