3 Big Reasons We'll Miss The Bones Character We Just Lost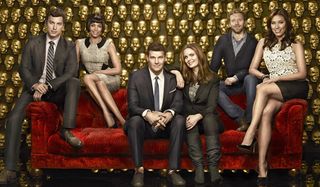 If you haven't caught the first episode of Bones' new season, you should turn back, now. This article is a hive of spoilers, and while finding out things ahead of time might seem like fun, it's always better to just learn in the moment. So, go plow through the episode and then immediately head back to this article to read more about what happened.
For most of TV history, killing off a main character has been a rarity. Recently however, killing off lead characters has become more of a TV staple, as leads end up dying off for shock effect or simply because the actor or actress in question is leaving a show (Thanks Game of Thrones). This week, Bones premiered the first episode of its 10th season, opening up with Booth in jail and a plotline carrying over from Season 9. Unfortunately, instead of ending on a happy note for Booth and Brennan, Bones' premiere episode was tinged with sadness. At the end of the episode, fans were treated to the death of Dr. Lance Sweets.
Shows that have been on the air as long as Bones has aren't usually looking for shock value of this ilk. In fact, while Bones has killed off a character before, it was one of the squinterns, a character who only popped up on the series once every couple of months. It seems strange that the writers would target Sweets this late in the game, but according to reports, actor John Francis Daly needed time away from the series in order to direct Vacation, the brand new sequel to the classic flick National Lampoon's Vacation.
While we are happy the Horrible Bosses writer is moving on to greener pastures, there are still plenty of things we will miss about his presence on Fox's long running series. So, raise your glass to the character. He deserves a little bit of our love. Here are the 3 big reasons we'll miss him the most.
His Quirky Optimism
Bones is very rarely a series filled with hopefulness and optimism. Each week, the crew is tasked with solving a gruesome murder. Competence, professionalism and logic rule the lab, while empathy and understanding are often in shorter supply. Luckily, Sweets emerged from all of the science mumbo jumbo to add a human element to the drama.
Introduced in Season 3, Sweets quickly became a full-fledged member of the Jeffersonian team. He was the yin to Booth's overly jaded yang, and for years he added the bromance buddy cop dynamic that Bones was certainly lacking. Booth will be a little bit lost without his partner and so will we because all too often, Lance was the primary reason for the show to smile.
The Love/Hate Relationship We Had With Daisy And Sweets
Talk about drama drama. Sweets and Daisy broke up numerous times across multiple seasons on the series. They never quite seemed to be on the same page regarding what they wanted out of their relationship or how to move forward. This led to annoying tiff, inappropriate office sex, and plenty of downright bitchy comments from Daisy. All of these sideplots grew old quick. She would call him Lancelot. He would get annoyed and eventually give in. The whole thing was very high school.
But it was also interesting and fun to be emotionally invested in. Whether you wanted Sweets and Daisy to end up together or not, their relationship produced a strong reaction from the audience. A procedural in its 10th season doesn't often offer intricate and interesting character stories to invest in, and Sweets and Daisy, despite the tumult, still had it going on. It's nice to see Bones producers realized that and gave them one more episode together and a baby to carry on.
His Relationship With Booth And Brennan
Booth and Brennan and Angela and Jack are friends. That's how they interact with each other. With Sweets, though, it always felt more like family. He lived with the primary couple. He bonded with each of them in different ways. There was honesty. There was annoyance. There was a familial bond that was kind of beautiful to watch.
Relationships like this take time. Even if they replace Sweets with a new psychologist, it would take five seasons to build up the chemistry and trust that flowed between Sweets, Booth and Brennan. As such, the show is probably just going to move in a different direction, which is fine. There's no replacing what was lost with Sweet's death. I'm not sure why the Bones writers would even want to if they could.
New episodes of Fox's Bones air on Thursday nights at 8 p.m. ET. Other shows that could totally kill characters off are listed in our fall premiere schedule.
Amazing Race & Top Chef superfan with a pinch of Disney fairy dust thrown in. Theme park junkie. If you've created a rom-com I've probably watched it.
Your Daily Blend of Entertainment News
Thank you for signing up to CinemaBlend. You will receive a verification email shortly.
There was a problem. Please refresh the page and try again.