5 Reasons You Should've Watched HBO's Getting On And Ja'mie: Private School Girl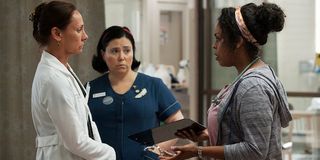 With the finales of not one but two comedy series last night — Getting On and Ja'mie: Private School Girl — HBO has proven themselves willing to push the boundaries of the genre. And some of you out there (you know who you are, tsk tsk) may not have tuned in, which we're here to let you know was an extreme misstep on your part.
But one you can readily correct, should you wish it! We realize, however, that television is a world with many excellent series vying for your attention — premium cable has tons of shows that require your binge-watch attention — so it seems only fair to list some reasons why you should hop on your [friends'/parents'] HBOGo account and check out these two series immediately.
They're Truly Original Even if They're Not Original: Chris Lilley, writer/director/star of Ja'mie is not tackling a new character in Ja'mie; she's appeared in numerous iterations of his work. And Getting On is based on a BBC series of the same name. Still, by bringing foreign series to American audiences, the at-times repetitive landscape of comedy is opened in new and exciting ways.
They're Darker Than You Think: Fans of laughter that also makes you a bit uncomfortable will find a lot of joy in Getting On and Ja'mie in their skewering look at the behaviors of their stars. For Ja'mie, it's the increasingly vapid and self-obsessed nature of entitled adolescence, and how and why certain girls behave the way they do. In a world mired in family comedy, Getting On and Ja'mie both take a look at the more unsavory side of life with an eye equally critical as it is comical. Things get dark in the former, and there's nothing showy or glamorous about it. Conversely, Ja'mie's glamorous show pony attitude highlights the innumerous ways in which high society lifestyles can be decidedly bleak when placed in the wrong hands.
Two Words: Niecy Nash: Playing against extraordinary comedic deadpanners like Laurie Metcalf and Alex Borstein is no easy task, but Nash's (of Reno 911! fame) turn as DiDi Ortley, an orderly lacking in experience but exceedingly capable and empathetic. Her work on the series is understated and honest, and she's able to illict hysterics with even the smallest of exasperated glances or resigned sigh. Compared to her more experienced but less effective superiors, she's a ray of light and actual work ethic while the rest are waffling around looking for something more. It's her best work, ever.
Chris Lilley Pretty Much is a Teenage Girl: The Australian actor has made a name for himself playing a varied assortment of characters, but none has been as cuttingly convincing as Ja'mie, a private school girl just trying to get some recognition for all of the truly heroic, amazing, and not-at-all-manipulative things she does for other people. It's a safe bet that Lilley is better at being a teen girl than many of your former teen girls out there.
They Get Modern-Day Humanity: Things aren't perfect, people aren't all redeemed, and sometimes shitty people are just that. We bumble, we stumble, we fail, we fall: life is one big comedy of errors, after all. It's the nature of being alive, and if you can't laugh at that then, frankly, I pity you.
You can stream Getting On and Ja'mie: Private School Girl on HBOGo now.
Your Daily Blend of Entertainment News
Thank you for signing up to CinemaBlend. You will receive a verification email shortly.
There was a problem. Please refresh the page and try again.