5 Ways Outlander Is Like No Other Show On TV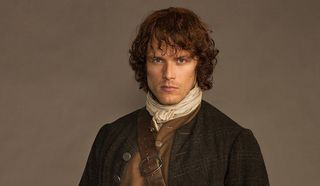 While fans of Diana Gabaldon's Outlander series have been waiting a long time for Ronald D. Moore's TV adaptation to air on Starz, those who haven't read the books may be wondering why they should tune in to catch this new series? We offered plenty of positivity in that respect in our review, but when it comes down to it, beyond being a good show, Outlander should be watched because it's not like anything else on TV. In fact, we came up with five ways Outlander stands out as something exciting and different as a TV drama, and one well worth watching.
Just to get the basic premise out of the way, Outlander stars Caitriona Balfe as Claire Randall, a British World War II combat nurse who's on vacation with her husband, Frank (Tobias Menzies), when she finds herself thrown back through time to 18th Century Scotland, where she's eventually forced to marry the gallant warrior, Jamie Fraser (Sam Heughan). Adventure and romance ensues. But plenty of shows have romance and music. So what does Outlander have that can't be found in any other show on TV? These five things combined...
The past and then even more past.
Outlander begins in the past and goes much further back, starting at the end of World War II and thrusting the lead character back to 18th century Scotland. Time travel isn't exactly a novel device in film and television, but it's used a bit differently here, as the story is less about Claire's adventures through time and more about her efforts to stay alive once she finds herself out of her time and in a very unstable environment, full of distrusting Highlanders and armed British military men, not to mention a lack of antibiotics and modern plumbing.
A different kind of love triangle.
Is it cheating if he's from a different century?
Claire's relationship with her historian husband is well established in the first episode, and we see further demonstrations of the strong relationship she has with Frank in the installments that follow. The love triangle factors in later on as Claire eventually engages in a forced union with Jamie Fraser, a young Scottish warrior and outlaw. The different times sets a unique scenario for Claire as she's faced with loving two very different men from two different lives.
Beautiful Scotland.
Expect a lot of plaid and a lot of incredible scenery. Outlander not only takes place in Scotland, it was also filmed there and from everything we've seen of the series, Ronald D. Moore's adaptation makes good use of its stunning backdrop. Outlander succeeds in transporting us back in time, first to Scotland in the 1940s and then to the 18th century, where the women wore dresses, the men wore kilts and everyone wore plaid.
Great music.
Starz seems to have developed a good working relationship with composer Bear McCreary, which has resulted in some excellent music for Da Vinci's Demons and Black Sails. McCreary, who also did the score for Ronald D. Moore's Battlestar Galactica, has brought his talent to Outlander. He also brought bagpipes. This reason really ties in to the Scotland element of the series, but between the Scotland setting, the adventure and romance, there are plenty of opportunities for the series to be enhanced by Bear McCreary's musical talents. We already got a taste of the heart-pounding -- drum-pounding -- music in a recent teaser.
Characters that speak fluent Gaelic.
How often do we hear proper Gaelic being spoken in a TV show? It's a rarity for sure, but one well worth appreciating in Outlander, even if we can't understand a thing the characters are saying when they go full Gaelic in their conversation. Most of the dialogue is in English, but when the Scottish characters start talking in Gaelic, we're left out of the conversation and there are no subtitles. That's actually not such a bad thing though, as we're not meant to understand exactly what they're saying, and in the meantime, it allows us the opportunity to appreciate the sound of language and its significance to the characters who speak it.
[[ br. br ]] Outlander actor Graham McTavish had some interesting things to say about learning the Gaelic and working with Adhamh O Broin to master Gaelic and represent the language properly in the series. Read all about that here.
Outlander premieres Saturday, August 9 at 9:00 p.m. ET on Starz. Read our review of the first six episodes here, and watch the first episode online early here!
Your Daily Blend of Entertainment News
Thank you for signing up to CinemaBlend. You will receive a verification email shortly.
There was a problem. Please refresh the page and try again.