Outlander Review: Adventure, Romance And Kilts Abound In Ronald D. Moore's New Drama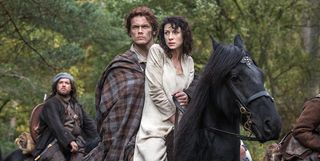 Expectations for a new series are always a bit higher when the drama is an adaptation of a beloved novel. That applies to Starz's Outlander, a Scotland-set drama from Ronald D. Moore, based on the first book in a series of novels by Diana Gabaldon. Outlander excels both as an adaptation and an intriguing new drama. Like the book, the series takes its time setting up the story and succeeds in drawing us in to this adventure one chapter at a time.
The story begins at the end of World War II. Having been up to her elbows in battle wounds, British nurse Claire Randall (Caitriona Balfe) is ready to reconnect with her historian husband Frank (Tobias Menzies). The two embark on a Scotland holiday, in an effort to regain the spark they once had. Which they do. A lot. When Claire visits a mysterious rock formation, she finds herself thrown back through time to 18th century Scotland. And that is where this story gets going.
The first episode takes a risk in placing most of its focus on Claire and Frank's relationship, rather rushing us through the introduction and jumping into the meat of the story, which is in the past. Understanding Claire's relationship with her husband is as necessary to the plot as is her experience as a World War II combat nurse, and the knowledge she has of the area, thanks to her husband's interest in Scottish history. The payoff to this introduction comes in the episodes that follow.
Out of her own time, Claire is taken in -- or taken captive -- by a group of Scottish clansmen, among whom are war chieftain Dougal MacKenzie (Graham McTavish), and Jamie Fraser -- alias Jamie MacTavish -- a gallant warrior and outlaw. Though Claire's looking for an opportunity to return to her own time, she's not unwilling to use her medical expertise to help the MacKenzie people while she's a "guest" of their clan.
Better known for his sci-fi endeavors (Battlestar Galactica, Star Trek: Deep Space Nine and The Next Generation), Ronald D. Moore's working a bit outside his wheelhouse with this historical fiction drama, but he handles the material well, balancing Claire's predicament with some political developments involving Britain's unwanted presence in Scotland, and the eventual love triangle that develops as Claire is forced to marry another man while in the 18th century. The series isn't in a hurry to get to that part of the story, which is a good thing, as the first handful of episodes allow us to appreciate Jamie and Claire as individual characters, without defining them entirely by the eventual relationship they form with one another. The same applies to Claire's relationship with Frank, which is developed nicely in the first episode, and revisited here and there in the ones that follow, so that it's frequently on Claire's mind, and thusly, ours. Occasional flashbacks and Claire's narration offer us further insight into what's going on in her mind throughout this situation.
Caitriona Balfe plays Claire with a perfect balance of strength, intelligence and femininity. She's a "modern" woman who's thrust into a very un-modern time, which naturally makes her stand-out. But Gabaldon set the character up in such a way that it's not impossible for Claire to find her way in this drastically different time period, and Moore's adaptation follows suit, allowing us to believe that this woman is not completely unprepared for the challenges she faces in her new setting. That proves crucial to the story, as we're rarely able to forget that Claire is out of her time, but it's also not hard to believe that Claire could survive this dangerous world. She's been through a war, after all.
All around, Outlander is well cast. That includes the beautiful Lotte Verbeek, who plays the mysterious Geillis Duncan. On the male side of things, we see traces of Jamie's bravery, strength, compassion and charm right away, and Sam Heughan tackles the role well. As Dougal MacKenzie, Graham McTavish does well in keeping us guessing about the mindset of his character. There are moments when he shines as a fearless leader, and moments when we're less certain of what's going on with him. Extra points to McTavish for some very impressive Gaelic speaking.
And then there's Tobias Menzies, who plays two roles in this series. He's introduced to us as the gentlemanly historian, Frank Randall, and re-introduced to us as Frank's sinister and sadistic ancestor, British Army Captain Jonathan "Black Jack" Randall. Menzies plays these characters so differently that we could almost forget we're looking at the same actor.
Scotland serves as its own character in this series, as the setting is ever present, from the sound of bagpipes in our ears -- Bear McCreary composes the score -- to the kilts and plaid featured in many of the costumes, to the stunning sight of Scotland's scenic highlands, Outlander embraces its setting at every turn. You'll also hear Gaelic spoken here and there. While the series offers no subtitles to allow us to understand exactly what's being said when Gaelic is spoken, we're usually following these scenes from Claire's point of view, and she doesn't speak Gaelic either. So leaving us slightly outside those conversations is fitting in context, and when we're supposed to know what's going on, it's made clear in other ways. Rest assured though, most of the dialogue is in English. And the Gaelic certainly adds a layer of culture and authenticity to the tone of the series.
On content, this is a premium cable series, and it makes good use of the lack of restrictions there, without delving into gratuitous territory. Expect at least a few steamy moments and a few very bloody ones. But it all serves the story.
There's always a challenge with adapting a book series to television, as the structure of a novel works differently than the structure of a TV series. Outlander finds its footing in that respect early on, clearly embracing its wonderful source material, while marching forward as a serialized drama that's well worth watching, whether you've read the book or not.
Starz gave us six episodes to screen, which is a generous supply of material to review, and yet, it's just two shy of finishing off the first half of the first season. I watched all six episodes and wanted more. I anticipate feeling similarly at the end of the 8th episode, which is the cut-off point for the first half of the first season, after which we'll all be left to wait for the second half of Season 1 to air next year. Wanting more is a good thing, especially for a show that's premiering to high expectations. By the book and everything we've seen of this series leading up to the premiere, I really hoped Outlander would be Starz's next fantastic original series, and by the first six episodes, all signs point toward that being the case.
Outlander premiere on Starz (opens in new tab) on Saturday, August 9, however the first episode will be made available this weekend (August 2).
Your Daily Blend of Entertainment News
0
Assistant Managing Editor
Kelly joined CinemaBlend as a freelance TV news writer in 2006 and went on to serve as the site's TV Editor before moving over to other roles on the site. At present, she's an Assistant Managing Editor who spends much of her time brainstorming and editing feature content on the site.
Your Daily Blend of Entertainment News
Thank you for signing up to CinemaBlend. You will receive a verification email shortly.
There was a problem. Please refresh the page and try again.