Watch Outlander's Full Premiere Episode Online Early Here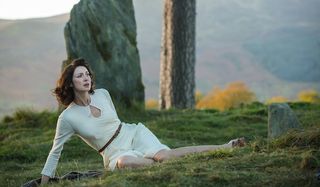 The video below contains scenes that are not safe for work. Viewer discretion advised!
As promised, Starz went ahead and put the first episode of their highly anticipated Outlander series online a week ahead of its official debut on the premium cable network. The first episode made its world premiere at Comic-Con in San Diego last week, and now those who weren't able to get to that screening have the opportunity to preview the series, which is based on a popular series of novels by Diana Gabaldon.
Created by Ronald D. Moore, Outlander stars Caitriona Balfe as Claire Randall, a World War II combat nurse who's on vacation with her husband Frank (Tobias Menzies) when she visits a strange rock formation and finds herself thrown back through time to 18th century Scotland. The first episode spends more than half its runtime setting up the story, as we're introduced to Claire and Frank, who are trying to rekindle their marriage after time spent apart during the war. And then Claire time travels and everything changes.
Sam Heughan plays Jamie Fraser, the gallant warrior whose shoulder Claire mends not long after she barely escapes being shot and assaulted upon arrival in the 18th century. It's a rough time period, but Claire proves to have a good survival instinct (she knows when to run, anyway) and her skills as a nurse come in handy. Claire and Jamie's relationship becomes a main focal point in the book, and the first episode really only scratches the surface of what's ahead for these two.
Outlander's first season will consist of 16 episodes, eight of which will air this summer, while the other eight will air in 2015. We've seen the first six episodes, and you can read our (relatively spoiler-free) review of them here.
When we spoke to her at Comic-Con, Diana Gabaldon gave us a very detailed explanation for why she wrote Claire as a World War II combat nurse. You can read about that here.
And those who are curious to know how much Frank we'll see in the first season going forward -- hint: more than you might guess! -- can hear what Tobias Menzies had to tell us about that here.
Finally, we have some more interesting insights about the series from Ronald D. Moore, Diana Gabaldon, Sam Heughan and Graham McTavish, which you can read all about here.
Outlander officially premieres August 9 on Starz. Check out the full Comic-Con panel video after the jump!
Your Daily Blend of Entertainment News
Thank you for signing up to CinemaBlend. You will receive a verification email shortly.
There was a problem. Please refresh the page and try again.