7 Big Reasons You Need To Be Watching Black Mirror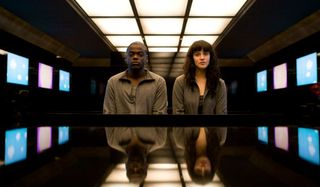 If you haven't heard about Black Mirror, it's time to wake up. This incredible British science-fiction series is going to go down in history books, and you need to get on board. The series began back in 2011 on the UK's Channel 4, and only recently reached a US audience last year through DirecTV and now streamable through Netflix, but it has already gained critical-acclaim and a cult-following that insists that it probably is the best series ever.
Created and written by Charlie Brooker, the series is formatted as an anthology that tells a separate narrative with a separate cast in each episode. There are currently two seasons of three episodes each, and a Christmas Special that just released this year. The series explores disturbing concepts that very well could be glimpses into what's to come. Each episode is dangerously relatable existing in a very near future. They're timely and terrifying, but also beautiful and witty. And if that hasn't convinced you yet, here are the 7 big reasons you need to start watching Black Mirror right away.
Celebrities Love It
Not only has the show driven critical-acclaim, winning an International Emmy for Best TV Mini-series in 2012, as well as a large fanbase, but also many celebrities have taken particular interest in the series. Legendary writer, Stephen King quickly became a fan, tweeting his own enthusiasm and appreciation for the series. Robert Downey Jr. was so impressed by "The Entire History of You" episode that he optioned the episode to potentially be made into a film by Warner Bros and his personal production company, Team Downey. Jon Hamm also professed his fandom, so much so that he ended up starring in this past Christmas Special.
A Powerhouse Cast
The show is jam-packed with notable British actors. While the cast changes each episode, there are many familiar faces including Rory Kinnear (Skyfall and The Imitation Game), Downton Abbey stars Allen Leech and Jessica Brown-Findlay, Rupert Everett (My Best Friend's Wedding), Domhnall Gleeson (About Time), Hayley Atwell (Marvel's Peggy Carter), Game of Thrones star Oona Chaplin and Mad Men star, Jon Hamm. Each episode is loaded with powerful performances from these actors and more.
It's Fearless
The show takes risks. It's dark and creepy and often brutal. There are instances that may disgust you, and often would not be subjects explored on TV, but it always serves a purpose to the message of the episode. The fearlessness in taking risks is never lazy, always thought out and fitting. It is honest about sex and pornography, it is not afraid to explore the ideas of suicide or torture. The show's own boldness is an important part of the viewing process. It makes the viewer aware of certain situations somewhat unexplored, but grounded in reality nonetheless.
Dark Comedy At Its Finest
Charlie Brooker's sense of humor definitely isn't for everyone, but it is some of the best satire you'll see. He pokes fun at issues that we have come to find intrinsic to our lives, things that even a few years ago would have never made sense to us. It's a twisted type of humor, but there are some instances where you can't help but smirk at how silly his world has become. Throw in some dirty humor at times, and even a goofy animated cartoon, and there are some innocent laughs in store as well. But all in all, as you laugh at some of the ridiculousness explored in Brooker's near-future society, it can often be an uneasy, nervous laugh fearing it as a potential future.
True To Human Emotions
While the show explores some unsettling concepts, it does have a basis in human emotion. Most of the episodes explore the idea of love in a sort-of bleak fairy tale, but character's do dive deep into their emotions. They experience heartbreak and loss, love and lust, fear and betrayal. And while part of society has become so consumed by their technologies that they seem numb to most emotion, many of the episodes explore the characters that are affected differently by that same technology. They are consumed in ways that make them feel more strongly, whether enacting jealousy or deep sadness, the effect the technology has on them creates extreme emotional responses.
The Modern Twilight Zone
The Twilight Zone used science fiction as their vehicle for social commentary whether it be on themes such as nuclear war or McCarthyism they were subjects not discussed on primetime television.Black Mirror is used as a means for modern social commentary, but in the inverse. It questions our complacency, and shows us why we need to be more afraid. It is the modern take on The Twilight Zone questioning one specific theme. Charlie Brooker has previously explained that the series is an exploration of technology as our drug, exploring the area between delight and discomfort and what the side-effects of that drug can be.
Social and Political Commentary
Not only does the show dive into the world of British politics, including the Royal Family, but it does so with no mercy. It shows the true colors of politicians, and even more so than that, the political ignorance demonstrated by society. It's difficult to imagine this show ever reaching a cable network with its aggressively critical outlook on Western society. Exploring concepts such as our complacency and addiction to technology, at times the social commentary can make you feel uneasy. But it needs to make us uneasy, so that we become more self-aware. The show paints a society that is corrupt and terrible, where people are addicted to reality shows and pornography, where there's a button to shut off when something begins to feel too real. Brooker's show isn't so much science-fiction as it is a glimpse into the future we are heading towards.
Your Daily Blend of Entertainment News