8 New TV Shows You Don't Need To Worry About Getting Cancelled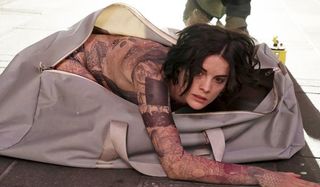 There are few things more disappointing than emotionally investing in a brand new Fall TV show, only to watch it get cancelled before it even reaches the end of its first season. All that time spent suddenly feels wasted, and all that mental energy learning about the new characters seems pointless. Fortunately, between ratings, script orders and renewals, it's possible to predict with some accuracy which shows are likely to make it over the long haul.
We've already gone over the shows most likely to get cancelled. This is a much happier list. If you're watching any of the following shows, you should feel pretty good. All of them will almost certainly receive a complete first season, and a very high percentage of them will likely be back for Season 2 next year.
Limitless, CBS
With more than 11 million live viewers per episode and huge gains on DVR, Limitless appears to be a bit hit for CBS. The network already extended the initial episode order to include a full 22 this first season, and considering its solid 18-49 numbers for a station that sometimes struggles attracting younger viewers, the future is nothing but bright, especially for an adaptation of a mediocre Bradley Cooper movie.
Dr. Ken, ABC
Dr. Ken Jeong just keeps crushing. The real life doctor turned Hangover star turned Community regular was gifted his own show this year, and the viewing public has responded in more than acceptable numbers. The premiere grabbed 6.7 million people, and viewership has been solid in the weeks since, or at least solid enough for ABC to extend the series order to 22. None of this might sound overly impressive, but given it's a half hour comedy that's assumedly very cheap to produce, the future is very bright.
Quantico, ABC
Quantico is glitzy, it's polished and its numbers have been decent thus far. It premiered to more than 7 million and its most recent episode held strong with more than 5. Those numbers aren't going to win any awards, but with the backing of super producer Mark Gordon (Criminal Minds, Grey's Anatomy, Ray Donovan), reviews over 80% on Rotten Tomatoes and a structure that feels very modern, it'll be given every chance to succeed. In fact, the first season was already extended by 6 episodes. At some point, it'll probably need to grow its total audience a little bit in order to earn a Season 2, but there's no reason to think that won't happen naturally.
Supergirl, CBS
There was some concern about Supergirl's pilot, given it was very widely pirated after it leaked online early, but fortunately for CBS, initial interest was huge. The show's first episode grabbed just shy of 13 million viewers, and it put up really big numbers in the coveted 18 to 49 demographic. Those are incredible live numbers, and coupled with CBS' likely determination to make its splashy new superhero property work, many are expecting huge things for the freshman drama. If the show holds a solid percentage of its numbers in episode two, CBS will almost certainly come out with a huge vote of confidence, likely by increasing the episode count.
The Grinder, FOX
Never ever bet against Fred Savage. The former Wonder Years lead and Princess Bride secret weapon has spent the past decade or so transforming himself into one of the most sought after comedy directors in the television industry. He's worked on Modern Family, It's Always Sunny In Philadelphia, Party Down and a whole lot more. Now he's back in an acting role, and of course he's crushing it. Reviews for Fox's The Grinder have been wonderful and while ratings haven't been huge, executives at the network reportedly love the show. They've already ordered an additional nine episodes, and hopefully, a Season 2 order will come at some point. After all, it's never a good idea betting against Rob Lowe either.
Grandfathered, FOX
John Stamos' other new project, the Full House continuation, has obviously been getting a whole lot more attention, but Grandfathered has been quietly putting up pretty decent numbers and attracting a lot of behind the scenes fans at Fox. Negotiations are reportedly underway between the network and producing partner ABC in order to finalize an agreement for more episodes. Once that's completed, it will give Grandfathered a full first season order and alongside The Grinder, the network may look to position the two shows into a comedy block for years to come.
Blindspot, NBC
Thanks to the runaway success of The Blacklist, NBC has spent a lot of time trying to find more shows like the popular James Spader vehicle that would appeal to viewers across many demographics. In Blindspot, executives may have finally found the right one. The freshman drama premiered to almost 11 million viewers, and a half dozen episodes in, it's still holding at around 8 million live per offering. Those numbers were enough to capture a full season order, and if they continue for a few more months, they'll definitely be enough to give the show a much deserved second season.
Rosewood, FOX
Rosewood might not be as flashy as some of the other entries on this list or as talked about as its Wednesday night partner Empire, but it has quietly put up very good numbers for FOX. The premiere attracted more than 7 million, and the show has been adding to its audience pretty steadily through Hulu and DVR. At some point, it will need to stand on its own without the help of Empire, but for now, everyone involved seems very happy with the numbers. Rosewood was recently given a full season order, and if it doesn't dip, it'll likely pick up a Season 2 order later.
This poll is no longer available.
Enthusiastic about Clue, case-of-the-week mysteries, the NBA and cookies at Disney World. Less enthusiastic about the pricing structure of cable, loud noises and Tuesdays.
Your Daily Blend of Entertainment News
Thank you for signing up to CinemaBlend. You will receive a verification email shortly.
There was a problem. Please refresh the page and try again.