The 9 Best First Season Shows You Should Be Watching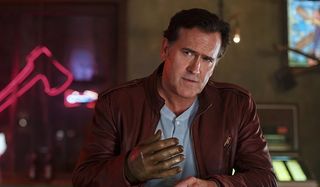 Are you one of those people that waits too long before getting into a TV show, thus later forcing your friends to dive into their memory banks to converse about a fictional event that happened years previous? Are you in need of some advice on what new shows are worth your attention so that you can get ahead of the curve this time? You've come to the right place.
Here are 9 freshman shows currently airing that you need to bring your attention to ASAP. You have our permission to skip work and other menial duties in order to binge out.
Ash vs Evil Dead
After just two episodes, Ash vs Evil Dead has already made itself at home in our weekly TV escapes. This is Sam Raimi and Bruce Campbell's return to the world of demonized deadites and chainsaw hands, and there's no one else out there that could have dreamed of putting this together with such precision. From the silly jokes to the slimy special effects to the legitimate scares, Ash vs Evil Dead is the perfect genre-mixer with bravado and gallons of blood to spare. As always, Campbell is the best thing on screen, but he's got a strong supporting cast around him to add to the fun.
Ash vs Evil Dead airs Saturday nights on Starz.
The Grinder
Watching The Grinder invites one to wonder just how Rob Lowe hasn't been leading his own comedies for the past decade or more. (As well as some pondering over why Fred Savage so rarely gets in front of the camera these days.) The concept – Lowe's actor went from playing a lawyer on TV to joining his family's law firm – is silly, but allows for all kinds of comedic foils that usually has Savage's family man bewildered by how no one else can see past his brother's B.S. With a great supporting cast and solid writing, The Grinder is probably the best good old-fashioned comedy of the fall season.
The Grinder airs Tuesday nights on Fox.
Blindspot
If you're into clue-laden tattoos and large-scale mysteries, then television probably can't get much better than Blindspot. Jaimie Alexander stars as a woman with no memory of her very busy past, and her entire body is covered in tattoos that have to be decoded in order to stop certain crimes from happening, and it all ties to Sullivan Stapleton's FBI Special Agent Kurt Weller. Blindspot is high-energy fun, and it's the kind of show where the episode titles are anagrams and will form a message when laid out completely. If only all shows got that nerdy about their mysteries.
Blindspot airs Monday nights on NBC.
Crazy Ex-Girlfriend
In recent years, The CW has done a solid job at broadening its programming slate. Created by comedian Rachel Bloom and The Devil Wears Prada screenwriter Aline Brosh McKenna, Crazy Ex-Girlfriend doesn't seem like an easy fit anywhere, much less The CW, but is welcomed with extremely open arms all the same. The basic gist is Bloom's Harvard grad Rebecca Bunch is a social plug who leaves a successful life behind to move to the city where her first love Josh (Vincent Rodriquez III) lives, hoping to rekindle something. Further bolstered by a splendid supporting performance by Donna Lynne Champlin, Crazy Ex-Girlfriend is most easily applauded for delivering some of the funniest musical sequences ever seen on TV.
Crazy Ex-Girlfriend airs Monday nights on The CW.
Red Oaks
While Amazon's Red Oaks, created by Joe Gangemi and Gregory Jacob, may not immediately deserve to stand besides classic period dramadies like The Wonder Years and Freaks and Geeks, but I'd say it deserves the consideration. Set in the 1980s, Red Oaks stars Craig Roberts as David, a guy trying to pass the summer by working at a New Jersey country club as a tennis instructor. Here we have a top-notch cast that includes Paul Reiser, Richard Kind, Oliver Cooper and Ennis Esmer as David's amiable slimeball of a boss, and a coming-of-age tale that recalls more carefree days when getting a buzz and a date were the most important worries. It doesn't hurt when your director team includes David Gordon Green, Amy Heckerling, Hal Hartley and Andrew Fleming.
All 10 episodes of Red Oaks Season 1 are on Amazon Prime.
Scream Queens
Created by American Horror Story's Ryan Murphy, Scream Queens is another anthology series, but with far more emphasis on balancing the blood with laughs. There's no denying that this show, which centers on a series of murders involving a college sorority run by Emma Roberts' exasperatingly bitchy Chanel, might be a little too harsh for some viewers, but the fans are definitely eating up the catty drama and growing body count. Standout performances from Jamie Lee Curtis as the dean and Glen Powell as super-douche Chad Radwell add to Scream Queens' surprising charm, and it's hard to hate on a devil-based whodunit.
Scream Queens airs every Tuesday night on Fox.
Supergirl
While Arrow and Gotham have the small screen cornered on dark and broody comic book fare, we thankfully have bright and cheery superhero tales with The Flash and now Supergirl. CBS isn't a network known for high-flying action and evil alien villains, but it definitely allows for the budget to make those things happen, and Supergirl is a delightful mix of special effects, cheeky dialogue, heavy mystery and charming characters. If there was any doubt before the show aired that Melissa Benoist wouldn't be successful in portraying one of the most important female heroes out there, it quickly evaporates once she's on the screen. Plus, Calista Flockhart is a snappy gem as Cat Grant.
Supergirl airs every Monday night on CBS.
The Late Show with Stephen Colbert
Stephen Colbert took a huge leap in moving from Comedy Central's partisan-satirizing The Colbert Report to the limelight of The Late Show as David Letterman's successor, and he turned the late night staple into a convention-warping frolic through entertainment, politics and news. An interviewer that regularly draws intelligent interviews out of his esteemed guest list, Colbert was able to dilute his expertly snarky persona into someone interested in hearing what everyone else has to say. In just a few short months, he's already sat down with everyone from Donald Trump to Joe Biden to Bryan Cranston to John Irving to Bill Clinton to Oprah Winfrey. The late night game has always been a testy one, but Colbert took no time at all to stand tall next to Jimmy Fallon and Jimmy Kimmel, as well as those who left the profession behind.
Master of None
It was hard to predict anything about Master of None, the latest co-creation from stand-up comedian and Parks and Recreation vet Aziz Ansari, who put this show together with Parks screenwriter Alan Yang. Still, I don't think anyone could have expected this particular blend of genuinely hilarious and emotionally sound storytelling. Ansari plays Dev Shah, an actor trying to make it in New York, both in work and in love, with friends Arnold (Eric Wareheim), Denise (Lena Waithe) and Brian (Kelvin Yu), as well as romantic interest Rachel (Noël Wells). The concept isn't fresh, but here we get a rare TV focus on Indian culture, as well as a unique narrative approach that hits upon the absurdity and surreality seen in Louie and Man Seeking Woman.This might just be Netflix's best original comedy yet.
All 10 episodes of Master of None are now streaming on Netflix (opens in new tab).
Head to the next page and tell us which of these shows you're most excited about.
This poll is no longer available.
Your Daily Blend of Entertainment News
Assistant Managing Editor
Nick is a Cajun Country native, and is often asked why he doesn't sound like that's the case. His love for his wife and daughters is almost equaled by his love of gasp-for-breath laughter and gasp-for-breath horror. A lifetime spent in the vicinity of a television screen led to his current dream job, as well as his knowledge of too many TV themes and ad jingles.
Your Daily Blend of Entertainment News
Thank you for signing up to CinemaBlend. You will receive a verification email shortly.
There was a problem. Please refresh the page and try again.