Supergirl: 4 Big Reasons We Need Supergirl On TV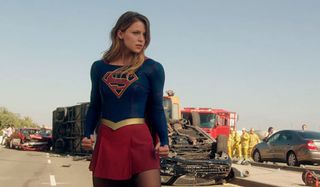 While a lot of people are watching Supergirl and seem to really dig the tone and look of the series, not to mention its heroine, those who dislike CBS' new drama have been a little more vocal about why. Some people are dissatisfied with the broad strokes of a network show, which is trying to fit as many people as possible. Some are dissatisfied with the costume or the seemingly naïve attitude of a young woman—with superpowers—trying to make her way in this world. Some are dissatisfied that it was Supergirl who made it to the small screen, period. But while Supergirl may not be the heroine for everyone, she is the heroine we need. Here are four big reasons why CBS' new drama is the perfect TV fit.
She's A Trier
Here's the thing about Kara Zor-El Danvers. She's a trier. She's the type of girl who is fearless with her opinions in the office and is willing to try to push herself and her powers when taking on new foes. Sure, this has gotten her into trouble with her boss Cat Grant and it could put her in danger at some point while saving the day. But actress Melissa Benoist makes the character work without making her seem foolish. The point is, Supergirl is not insipid or silly. She's warm and exuberant and willing to jump in.
She's The First Recent TV Female Superhero And She Has Broad Female Appeal
Sure, The Flash and especially Arrow have some badass females, but both of those shows heavily appeal to fans of the comics, and even when they nab audiences who just watch the TV show (which obviously does happen), the CW shows still feel like comic shows. Supergirl has a broader appeal and a different outlook than the other superhero programs. This may not make the comic fans happy, but certainly engages girls who may not normally choose to watch a superhero show. Maybe dealing with sister issues, romances and figuring out how to be successful at a regular job doesn't appeal to everyone, but it does expand the audience for superhero programming, and that's pretty cool.
Supergirl Is The Perfect Show To Watch With The Whole Family
The Muppets may have not ended up being the family-friendly program a lot of parents were expecting, but Supergirl doesn't have that problem. It's family-friendly. While some young kids might not be able to handle the relatively tame villainy and fighting sequences, for the most part, an entire family can sitdown and watch together. A lot of TV—and even most of the superhero shows—favor a darker, grittier type of storytelling. There's obviously an audience for that grittiness, but TV needed a primetime program like Supergirl and I'm thankful CBS produced it.
Supergirl Has A Great Origin Story
I think we've all been itching for a series set in the Superman universe for a while, but the cool thing about Supergirl is her origin is similar but different. I think most of us know the gist of how Clark Kent made his way to Earth from Krypton, but Kara's journey is a different take and a welcome one. Plus she still has a ton of material to mine from in the comics. As Supergirl has proven so far, the show isn't timid about borrowing Superman characters, and quite frankly, the show is better for it.
Sure, Supergirl has a few kinks to work out, but so far the Girl of Steel is exactly the female heroine TV has been looking for. You can tune in and find out what she is up to next when Supergirl airs on Monday nights at 8 p.m. ET, only on CBS.
Photos courtesy of CBS (opens in new tab).
Your Daily Blend of Entertainment News
Reality TV fan with a pinch of Disney fairy dust thrown in. Theme park junkie. If you've created a rom-com I've probably watched it.
Your Daily Blend of Entertainment News
Thank you for signing up to CinemaBlend. You will receive a verification email shortly.
There was a problem. Please refresh the page and try again.