ABC's Brothers And Sisters Is Officially Canceled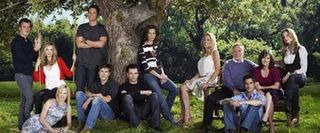 After losing a number of viewers during Season 4, ABC's family-centered drama Brothers and Sisters worked extremely hard to change up its storyline for Season 5. A number of characters left and some new characters showed up; but, most notably, the series opted to pull a One Tree Hill and jumped ahead in its storyline in the hopes it could start over freshly. You can read more about the changes, here.
Apparently, this plan worked in the short term. Viewer interest was somewhat revitalized and the ordered 18-episode season was even given four extra episodes by beneficent ABC decision makers. Unfortunately, according to Deadline, with a slew of interesting drama pilots on the forefront, moving forward with a different storyline was not enough to keep the show on air. Brothers and Sisters will not return for Season 6, and with the Season 5 finale airing last Sunday, the program won't even get a proper sendoff.
With its multiple storylines and heavy-hitter cast, I never thought Brothers and Sisters gave veteran actresses Calista Flockhart, Sally Field, and especially Rachel Griffiths, the screen time each deserved. To hell with the Walker family. NBC should pick up Griffiths for a part in Parenthood. A television reunion between Peter Krause and Griffiths would definitely be worth seeing.
Your Daily Blend of Entertainment News
Thank you for signing up to CinemaBlend. You will receive a verification email shortly.
There was a problem. Please refresh the page and try again.