ABC Cancels Lambert's Appearance On Good Morning America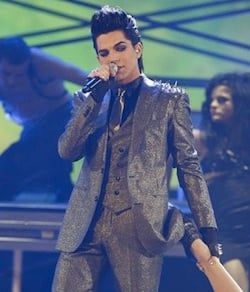 It looks as though Adam Lambert's performance at the American Music Awards cost him a gig on Good Morning America. Fortunately for Lambert fans, CBS isn't above picking up ABC's leavings.
Lambert's performance of his new single "For Your Entertainment" included him shoving one of his dancers' faces into his crotch, which likely didn't go over well with some of ABC's more conservative viewers. The singer was scheduled to appear on Good Morning America tomorrow (Wednesday) morning but due to the complaints (of which ABC received more than 1500), the network has dropped him from the GMA morning line-up, according to Us Weekly. The site went on to report that according to Lambert's rep, he will be performing on The Early Show on CBS.
Seems like a win-win for Lambert here. He still gets to perform on a major morning show and the controversy form the AMA performance will likely shed some attention to his new single.
Your Daily Blend of Entertainment News
Thank you for signing up to CinemaBlend. You will receive a verification email shortly.
There was a problem. Please refresh the page and try again.