ABC Orders Comedy Pilot Starring Mandy Moore, Shawn Levy To Direct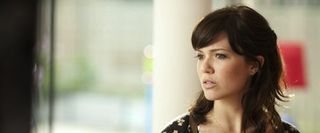 Last fall, we learned that ABC ordered a put-pilot for a comedy which would star Mandy Moore. It looks like ABC is still interested in the project as they've given a late pilot order for the comedy, which will be directed by Shawn Levy.
Deadline posted the news of the pilot order, stating that the single-camera comedy is written by Bob Fisher and Stacy Traub. The premise follows Annie (Mandy Moore) and her new husband Ben as they "get the opportunity of a lifetime to run a hip, new restaurant in Annie's hometown bringing her closer to her needy and high maintenance family."
While Moore got her start in the entertainment industry as a pop singer, she moved over to acting a little over a decade ago, appearing in The Princess Diaries and A Walk to Remember. More recently, she voiced Rapunzel in Tangled, and has appeared in How I Met Your Mother and Grey's Anatomy.
Meanwhile, in addition to directing the project, Levy, whose recent big screen directing credits include Real Steel, Date Night and the Night at the Museum films, will also executive produce, along with Marty Adelstein and Becky Clements). Levy is also set to direct a pilot for Fox called Little Brother.
It'll be interesting to see what becomes of this project and whether ABC decides to run with it (and where they're thinking of putting it, if they decide to give it a series order.)