AMC's The Walking Dead Goes Behind The Scenes With Makeup Artist Greg Nicotero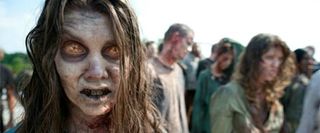 Everyone is pretty excited for the return of AMC's The Walking Dead. It's one of the few new series last season that really captured audiences and instantly converted them into mindless, uh, zombies, obediently tuning in each week to see what blood, guts, and gore-thirsty creatures Sheriff Rick Grimes and the rest of the survivors had to deal with, or decapitate and disembowel, this time.
My favorite part of the series, being the huge dork that I am, is the monster makeup. The production value and expertise thrown behind the zombie design was phenomenal; no surprise when you hire a legend like Greg Nicotero to take care of it for you. Nicotero has worked with some of the biggest names in film (Tarantino, Raimi, Rodriguez) and his TV resume ain't too shabby either (Deadwood, Masters of Horror, The Pacific).
His work on The Walking Dead so far is nothing short of magical...and with a bigger season and bigger budget, I can only imagine what he might have in store for us. This new featurette focuses on Nicotero as he discusses the story behind the amazing first image that they released for Season 2. As he says, he fell in love with an extra's eyes and felt she would make the perfect zombie, and you can't really argue with the result.
But never mind me, watch Nicotero tell you about his work in his own words.
The Walking Dead returns to AMC for Season 2 this October. It stars Andrew Lincoln (Rick Grimes), Sarah Wayne Callies (Lori), Jon Bernthal (Shane), Jeffrey DeMunn (Dale), and Laurie Holden (Andrea). Based on the graphic novel by Robert Kirkman, Frank Darabont serves as exec-producer, writer, and director for the TV adaptation.
Your Daily Blend of Entertainment News