Absolutely Fabulous Is Back To Celebrate 20 Years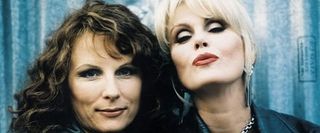 Ab Fab hasn't hit the air since their last special in 2005, but according to the Guardian the ladies are back and ready to roll. 2012 marks twenty years since the British sitcom first aired, and the BBC will honor the occasion with three new episodes that take place in the present. The first episode will reintroduce the two over-the-top characters as one faces a life-changing incident, followed by the second episode in which PR agent Edina takes on a big name for a career change. The third and final episode takes Edina and Patsy to the 2012 Olympics where they will no doubt make a splash in typical style.
The original cast including Jennifer Saunders and Joanna Lumley came together to create the new special, and from the sound of it clicked like no time had passed at all. According to show creator and star Saunders :
Absolutely Fabulous aired from 1992-2003 and then returned for two specials in 2004 and 2005. The middle-aged twosome of Edina and Patsy stumbled their way through life aided by drugs and alcohol in search of lost youth, dragging family and friends into their tailspin. Come to think of it, that doesn't sound funny at all, and yet, somehow it is; mostly thanks to the comedic genius of Lumley and Saunders.
Both stars have gone on to do regular TV work as well as providing voices for various animated films. But they will forever be known as Edina and Patsy, Britain's high-fashion, low-brow queens of sarcasm, who are no doubt as absolutely fabulously hilarious as ever.
Your Daily Blend of Entertainment News
Thank you for signing up to CinemaBlend. You will receive a verification email shortly.
There was a problem. Please refresh the page and try again.