Adam Goldberg Joins ABC's Divorce: A Love Story Pilot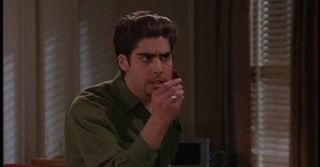 ABC's pilot for Divorce: A Love Story has added Adam Goldberg to the cast. He'll co-star in the comedy, which is based on the Israeli format, about a divorced couple who can't seem to leave each other alone.
Deadline says Goldberg will play Ike, best friend of newly divorced Kenny (Jason Jones of The Daily Show). He's described as neurotic and analytical, and is also Kenny's co-worker. Kenny is one half of the main couple whose divorce and subsequent continued involvement in each other's lives is the focus of the plot, the other half being his ex-wife Robin (Andrea Anders of Mr. Sunshine). The pair apparently discover themselves stuck in a can't-live-with-you, can't-live-without-you relationship where even though they were awful as a married couple, they are even worse at being divorced.
Among his many credits Goldberg most recently starred on the short-lived CBS procedural drama NYC 22, and previously appeared on Entourage as well as guest-starring on White Collar and Numb3rs. His film work includes movies like Saving Private Ryan and A Beautiful Mind. This will be his second chance to work with Andrea Anders, the two appeared together on the Friends spinoff Joey.
Pam Fryman of How I Met Your Mother is on board to direct the pilot, and it is written by Rules of Engagement's Mike Sikowitz and Israeli writer Daniel Lappin from the original series. Sikowitz also has a pilot at NBC this season, the multi-cultural comedy Welcome to the Family, so between that and Divorce he could be a busy man if both go forward.
Your Daily Blend of Entertainment News
Thank you for signing up to CinemaBlend. You will receive a verification email shortly.
There was a problem. Please refresh the page and try again.