Adam Lambert Headed To Glee For Season 5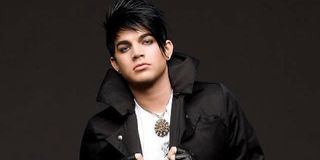 Adam Lambert knows a thing or two about covering pop songs. The musician got his big break as a contestant on American Idol, showing off his incredible vocal range and control, which he's only continued to develop further in the years that have followed since his Idol run, proving - as others have - that you don't need to actual win Idol to find success after. And now it looks like he's returning to Fox, this time for a run on Glee, which is where those cover-skills should come in handy, considering the musical dramedy's playlist consists mainly of made-over pop songs.
TVLine posted the news that Adam Lambert would be joining Glee for the series' upcoming fifth season, citing a Tweet from Ryan Murphy:
Once upon a time, a bit of Glee casting resulted in more obvious conclusions drawn about how the actor (or singer) might fit into the series, but given Glee's divided structure, that's no longer the case. There are no details given about what kind of role Lambert will be playing, and we also don't know where he'll be playing it. The series divides its attention between the glee club students at McKinley High School and the adventures of Rachel and Kurt in New York City. Lambert could be involved in either story arc. Or maybe there's something else in store for his character? We can only speculate.
As TVLine points out, there were rumors about Lambert joining Glee not long after his season of Idol wrapped up. But that was years ago, when Glee was still new. He's since returned to TV to appear on Pretty Little Liars, but that was to perform. While we should probably expect to hear plenty of Lambert's phenomenal voice during his run on Glee, it sounds like there's some acting involved too, so that should be interesting.
In addition to creating his own music since his Idol days, Lambert has also performed with Queen, which - for those who have never heard him sing - is a mark of the kind of vocal control and range the man has. Following in the footsteps of the great Freddie Mercury is no easy task, but he's up to the challenge. For evidence of that, watch the video below, which shows Lambert singing "Bohemian Rhapsody."