Adult Swim's CSI Parody NTSF:SD:SUV:: Preview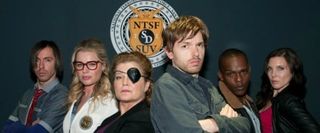 This genre, without any doubt, is ripe for parody. I mean, some of the police procedurals on TV are so ridiculous, with their hot detectives and hotter one-liners, that they are teetering on becoming parodies of themselves anyway. I can't watch David Caruso on CSI: Miami without laughing hysterically. Adult Swim has decided to take the genre and make it funny, you know, on purpose, with their new show NTSF:SD:SUV::.
Yes. That is the name of the show, multiple colons and all. The acronym NTSF:SD:SUV:: stands for National Terrorism Strike Force: San Diego: Sport Utility Vehicle:: (I'm still unsure why there are an additional two colons after vehicle but at the same time I'm unsure why people continue to watch the straight versions of the genre). These guys aren't the first to ridicule the CSI-style cop show, Billy Baldwin and Kristen Bell did a great job in the hilarious Forgetting Sarah Marshall, but they might be the first to bring it to TV, in fifteen minute installments.
The show was created by and stars familiar-comedy-face Paul Scheer (who's been in everything from Parks and Recreation to Piranha 3D) as well as a huge ensemble of talented comedians including Rob Riggle, Brandon Johnson, Ed Helms, Adam Scott, June Diane Raphael, Martin Starr, Rebecca Romijn and, Captain Janeway herself, Kate Mulgrew. It seems like it will strike a similar tone, style and format the another Adult Swim breakout, Children's Hospital.
Anyway, enough babbling. Here's the teaser.
NTSF:SD:SUV:: premieres this summer, Thursdays at 12:15 a.m. ET on Adult Swim.
Official synopsis from the Adult Swim Upfront,
Stumbled across this teaser on Vulture.
Your Daily Blend of Entertainment News
Thank you for signing up to CinemaBlend. You will receive a verification email shortly.
There was a problem. Please refresh the page and try again.