Agents of S.H.I.E.L.D. Brings In More Than 20 Million Viewers In First Week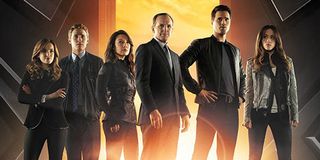 When Agents of S.H.I.E.L.D premiered on ABC last week, the network had a pretty big ratings hit, with 11.9 million total viewers showing up to watch the series live and several others tuning in that same evening, bringing the total viewers to 12.1 million. The Tuesday night premiere continued to earn new viewers throughout the past week, and has now brought in more than 20 million total viewers. That's not too shabby for a brand new drama. Alright, those are excellent numbers for a brand new drama.
Honestly, numbers closer to 20 million total viewers seem to make more sense than the 11.9 million the show brought in during its initial airing. After all, Agents of S.H.I.E.L.D has been brought to audiences via Disney's deal with Marvel and the show even features a Marvel franchise favorite, Agent Coulson (Clark Gregg). If the show managed to even tap into a small segment of the audience who shows up for popular Marvel franchise movies like Iron Man and The Avengers, it should have done quite well. Beyond this, S.H.I.E.L.D has been one of the most highly touted programs heading into the new season, appearing at Comic-Con and putting together numerous promotional videos leading into the fall premiere schedule. The show seemed destined to do well, and the numbers the show brought in live last Tuesday fell a little short of what I actually expected. I've been told I expect a lot out of television, though.
It seem like much of the audience is enjoying the show via a ton of different platforms. According to Variety, between Wednesday and Friday the show earned about 3.7 million viewers thanks to DVR watches and VOD. Then, the network re-aired the show on Thursday, bringing in another 4.6 million total viewers. Additionally, another 1.6 million total viewers watched the drama via online platforms like Hulu, bringing the sum total of all watches during the shows first week (up to the time of this writing) to about 22 million.
Even if some of these viewers tuned in more than once via multiple platforms (and Marvel often inspires the sort of fandom that makes these things possible) the show did quite well for itself and is actually the network's most popular premiere ever—at least when considering the five-day window. Additionally, S.H.I.E.L.D became the #1 program in the 18-49 demographic last week.
All in all, it seems like Agents of S.H.I.E.L.D is the sort of program that will enjoy a long life on the network. Most of the time, a show's premiere episode is one of—if not the most—highest-rated episodes of the season. However, with S.H.I.E.L.D.'s excellent viewership throughout its first week, I wouldn't be surprised to see the show's numbers continue to grow in the weeks to come. You can check out the episode 2 preview, below, or catch ABC's new drama on Tuesdays at 8 p.m. ET.
Amazing Race & Top Chef superfan with a pinch of Disney fairy dust thrown in. If you've created a rom-com I've probably watched it.
Your Daily Blend of Entertainment News
Thank you for signing up to CinemaBlend. You will receive a verification email shortly.
There was a problem. Please refresh the page and try again.