Amy Poehler And Katherine Heigl Land Pilots at NBC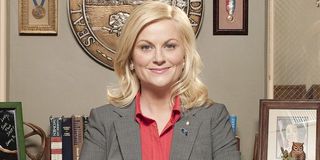 One thing remains fairly clear about NBC's current pilot season strategy: ladies, ladies, ladies. And leading the pack is all-around queen of wonderful hilarity, Amy Poehler. Who, alongside fellow funny woman Tina Fey, may be tasked with attempting to save the network's once-promising comedy lineup. The network has recently wrangled several new series for potential pick-ups next season from the likes of Amy Poehler and Tina Fey, and even a CIA drama that would mark the television return of Katherine Heigl. That's a lot of women running stuff over at the peacock, y'all.
First up is Heigl's potential return-to-television series, a CIA-focused drama called State of Affairs. The series is — according to The Hollywood Reporter — described as a Scandal/The West Wing mash-up, revolving around a maverick-y CIA attaché that is plucked from the field to become the person who briefs the president every day about the dangerous missions and events occurring around the world. Heigl will play the aforementioned agent tasked with targeting America's most critical threats, all while attempting to navigate the unique lifestyle that comes with having such a high-stakes job. Already set to write and direct (as well as executive produce alongside Heigl) is Joe Carnahan, the film writer/director who's also been working on another NBC series as of late: The Blacklist.
Though hardly new news, the Fey-backed comedy starring The Office star Ellie Kemper has already been given a straight-to-series, 13 episode order. Kemper will play a woman who escapes to New York City to start her life over after leaving a doomsday cult. The series will also be co-produced by Fey's 30 Rock compatriot Robert Carlock.
Poehler's pilot deal comes on the heels of her recently announced three year overall deal with the network. Starring Orange is The New Black star Natasha Lyonne, the series — tentatively titled Old Soul — the series follows Lyonne's character as she searches to find herself all while working as the aide to a group of elderly people. Poehler is set to executive produce alongside Dave Becky, who frequently works with Louis C.K. and is also executive producing Poehler's other on-air series, Comedy Central's Broad City. In addition, Jon Fener, and Josh Bycel are on board as well.
Now if those last two names don't sound familiar, they should. Fener and Bycel both worked as writers and co-executive producers on Happy Endings, the gone-too-soon series from ABC. It's a check mark on the positive side for this series, as the duo are set to pen the script for this new outing.
The pilot order brings to an end an already banner week for Poehler, who took home her first Golden Globe for her hilarious work as Leslie Knope on the network's own Parks and Recreation while simultaneously hosting the event with friend and fellow NBC comedy hero, Tina Fey. And as it also turns out, Parks has already been given an unofficial seventh season following Bob Greenblatt's conversation at the Television Critics Association's winter tour in Pasadena this weekend. Which is a very exciting prospect indeed.
Your Daily Blend of Entertainment News
Thank you for signing up to CinemaBlend. You will receive a verification email shortly.
There was a problem. Please refresh the page and try again.