Anderson Cooper And Kathy Griffin Reportedly Shot A Pilot For CNN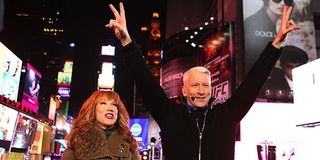 It looks like CNN might be thinking about bringing Griffin and Anderson Cooper together more than once a year. Word is the two have filmed a pilot for an hour-long project at CNN's New York studios in front of a live audience, but details about the show are pretty slim at the moment, including the format and whether it's meant to air on CNN.
Deadline says new CNN head honcho Jeff Zucker was involved with the filming, which could be part of his plan to change the image of what is generally considered to be a fairly stuffy network. Certainly, Kathy Griffin would help shake off some of the dust. She joined Cooper as the co-host of the news network's New Year's Eve Live in 2007, and the duo have been bringing in good ratings on that special ever since.
Cooper may well be looking for something new to do since his talk show was cancelled. He's also reportedly been considered to replace Alex Trebek on Jeopardy after the veteran host retires. Griffin's show My Life On The D-List has been doing just fine in the ratings and her stand-up career is also going strong, earning her an Emmy nomination last year. A new show would make her a very busy comedian.
I don't watch Griffin and Cooper's New Year's special, but I can see how they would make a good team on screen, so there could very well be something to a show featuring the pair. Whether or not the two will successfully bring a fresh audience to CNN is questionable, but we'll have to wait on some more details to pass judgment on this one.
Your Daily Blend of Entertainment News
Thank you for signing up to CinemaBlend. You will receive a verification email shortly.
There was a problem. Please refresh the page and try again.