Andre Benjamin To Return To The Shield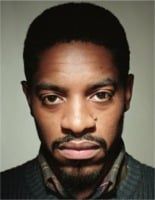 Andre Benjamin is one of those multi-talented entertainers who sort of sneaks up on you over time. The Outkast band member got his start in the movie business via soundtracks, penning tunes for such diverse films as Lara Croft: Tomb Raider, 8 Mile, and After the Sunset. He also went on to play roles in Four Brothers, Idlewild, and Semi Pro, the basketball movie starring Will Ferrell and Woody Harrelson.
In an interview with Blackfilm.com, Benjamin said he'll be returning for The Shield's season finale. He'll reprise the role of a comic book store owner named Robert Huggins that he originated in an episode titled "On Tilt" from Season 3 in 2004.
In that episode, the character turned vigilante in his violence-ridden neighborhood. In the finale, that same character will run for mayor.
Season 7 of The Shield, scheduled to premiere this summer, will consist of 13 one-hour episodes.
Your Daily Blend of Entertainment News
Thank you for signing up to CinemaBlend. You will receive a verification email shortly.
There was a problem. Please refresh the page and try again.