Andy Richter Confirmed To Join Conan O'Brien At TBS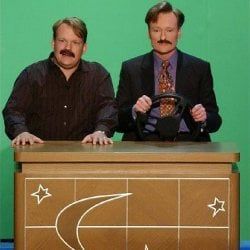 Conan O'Brien finally makes his return to television on November 8 with the new TBS talk show Conan, and many of us are hoping he'll be able to capitalize on the promise shown by his brief Tonight Show stint and return to the Conan we all loved in late, late night for years. All signs so far point to TBS letting Conan doing things his way, and here's one more point in their favor-- Andy Richter is confirmed to return as Conan's sidekick.
Richter was O'Brien's sidekick from 1993 to 2000 on Late Night and returned to the role for the Conan-hosted Tonight Show. It's really no surprise to hear that he'll be back, but maybe now the promo ads can switch from focusing on Conan to the dynamic duo we've missed since the Tonight Show fell apart in January. I mean, check out the exchange from the press release and tell me you're not glad to hear these two bicker again:
Conan premieres November 8; you're now free to start hoping in vain for the return of Triumph the Insult Comic Dog (though, sadly, it'll never happen).
Staff Writer at CinemaBlend
Your Daily Blend of Entertainment News
Thank you for signing up to CinemaBlend. You will receive a verification email shortly.
There was a problem. Please refresh the page and try again.