Anne Heche Cast In NBC's Save Me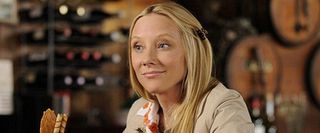 The single-camera comedy that NBC picked up with a cast-contingent pilot order back in September is moving forward; the contingency has been lifted by the casting of Anne Heche in the leading role. Save Me is headed into production now that Heche has signed on to work both in front of the camera and behind it as producer on the series.
Deadline reported today that the series is headed into production of the pilot, joining two other new NBC series now filming. Most recently picked up to pilot was a female buddy comedy from Kari Lizer and already filming is Isabel, starring Marcia Gay Harden.
Save Me will tell the story of a woman who is involved in an accident and comes out of it believing she now has the ability to channel God. It took a while to find the right leading lady, but Heche has finally come on board to play the role. Once best known for being Ellen DeGeneres' girlfriend, Heche has made a name for herself in movies and television and most recently starred on HBO's Hung. She's also appeared in Everwood, Nip/Tuck and Men in Trees.
Her role in this show might just be slightly autobiographical – following her much-publicized split from DeGeneres, Heche went on a bender that ended with police being called to remove her from a stranger's home. She allegedly told police that she was "God and was going to take everyone back to heaven in a spaceship" according to a People story from September of 2000. So it seems she really does bring something special to the role.
Your Daily Blend of Entertainment News
Your Daily Blend of Entertainment News
Thank you for signing up to CinemaBlend. You will receive a verification email shortly.
There was a problem. Please refresh the page and try again.