Anne Heche's Save Me, Bear Grylls' New Series And 2 More Get Summer Premiere Dates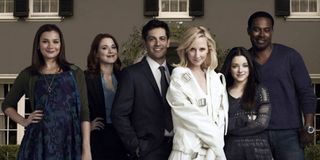 NBC has set four more premiere dates for summer programming, including the Anne Heche series Save Me which has been awaiting slot for some time, and the new Bear Grylls reality challenge series Get Out Alive With Bear Grylls. Newcomer Camp and returning American Ninja Warrior have also gotten their spots on the schedule.
Save Me, about a woman whose near-death experience leaves her believing she's a prophet, got the green light nearly a year ago to go to series, but didn't show up on the fall schedule. It was then expected to turn up midseason, according to Deadline, but got bumped again. It's finally been given a premiere date of May 23rd, and will air two episodes per night at 8 and 8:30 p.m. EST.
Set to premiere together on July 8th are the new extreme competition series Get Out Alive, and the fifth season of American Ninja Warrior. Get Out Alive brings former Man vs. Wild host Bear Grylls back to television after alleged contract disputes drove him off the Discovery Channel show. American Ninja Warrior, a sports competition series, will air first at 8 p.m. EST, leading into Get Out Alive at 9 p.m.
Finally, NBC will premiere the dramedy Camp, starring Rachel Griffiths among an all-Australian cast, which is set in a camp in – not surprisingly – Australia on July 10th at 10 p.m. EST. It will follow America's Got Talent, which previously got a June 4th premiere date when it adds a second edition on Wednesdays the same day. Here's a rundown of the dates and times:
May 23, 2013:
Save Me, 8:00 p.m. EST
June 4, 2013:
America's Got Talent, 9 p.m. EST
July 8, 2013:
American Ninja Warrior, 8 p.m. EST
Get Out Alive With Bear Grylls, 9 p.m. EST
July 10, 2013:
America's Got Talent, Wednesday edition, 9 p.m EST
Camp, 10 p.m. EST
Your Daily Blend of Entertainment News
Thank you for signing up to CinemaBlend. You will receive a verification email shortly.
There was a problem. Please refresh the page and try again.