Apolo Anton Ohno, Wonder Year's Danica McKellar Join Syfy's Tasmanian Devil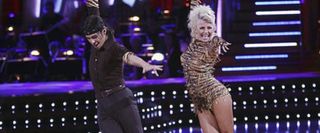 Apolo Anton Ohno is kind of a jack-of-all-trades. The two-time Olympic gold medal winning athlete has not only won at several Olympics but has also pulled in speed skating wins at the World Championships, among other gigs. Ohno has even been an entrepreneur behind a nutrition supplement called 8 Zone. Back in 2007, he managed to win Dancing With The Stars in his spare time. Now, the man with the strangely sexy goatee is ready for his first ever acting job.
Ohno is set to head to Syfy where he will have a part in the new Syfy original TV movie, Tasmanian Devil. Ohno will be joined by Wonder Years alum Danica McKeller, who is back to some regular acting roles after popping out a baby in 2010. According to THR Kenneth Mitchell (Jericho) will also star in the film, which is set to hit the network in 2012.
If you were wondering what shenanigans Ohno and his comrades would get up to in Tasmanian Devil, the TV movie will follow a group of base jumpers having fun in a Tasmanian national park. All seems to be going well, until some angry Tasmanian devils show up, hellbent on getting rid of the base-jumping intruders. Tasmanian devils are generally cute little guys with sharp teeth, but Syfy's version will enhance their size into some huge beasts. I'm not normally one for monster movies, but with Ohno, McKeller, and some creepy CGI devils as the big draws, I might just waste a few hours watching.
Your Daily Blend of Entertainment News
Thank you for signing up to CinemaBlend. You will receive a verification email shortly.
There was a problem. Please refresh the page and try again.